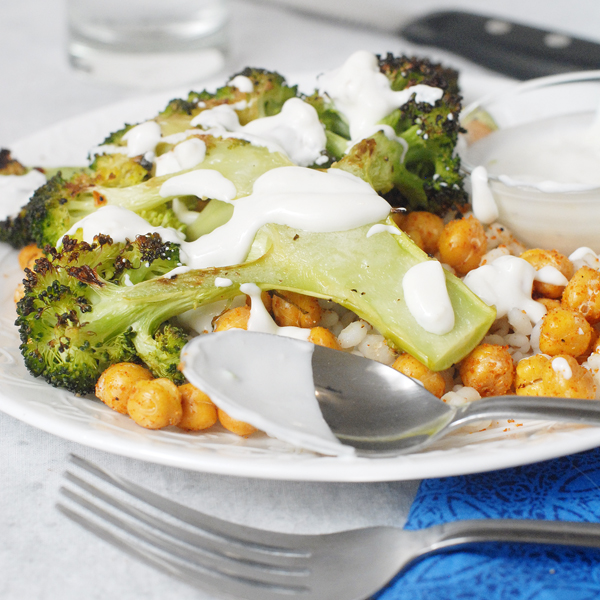 This months recipe redux theme was to create a gut-healthy meal.  When I think of gut health, I think of two things: fiber and probiotics.  I made roasted broccoli steaks and chickpeas with yogurt sauce.  Yogurt is my favorite food-based probiotic, and it makes a delicious, creamy sauce.  I choose broccoli and chickpeas because they have two different types of fiber that are both great for gut health- more on this later.  Finally, to make it a full meal, I plated the roasted broccoli and chickpeas over barley!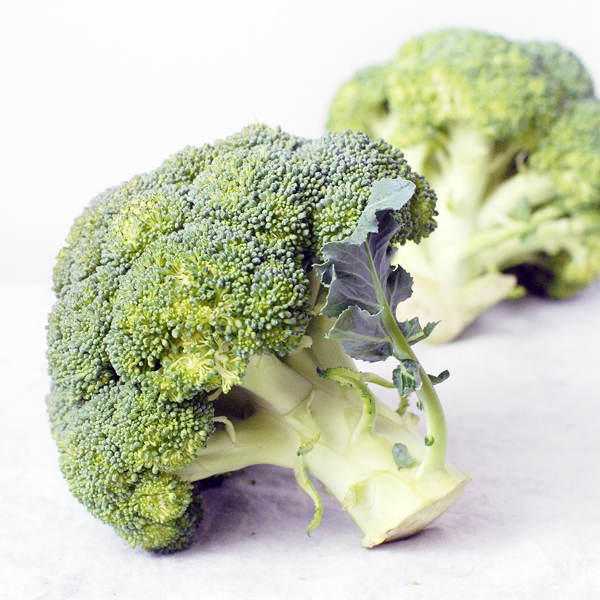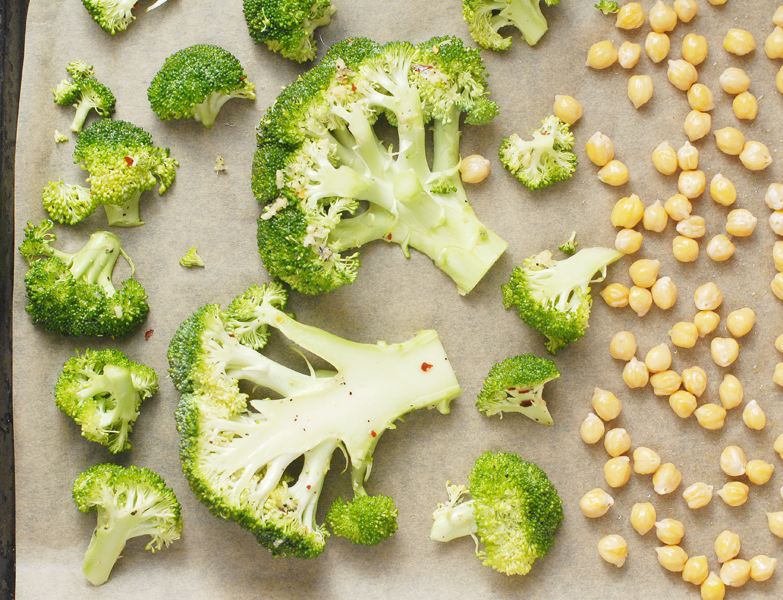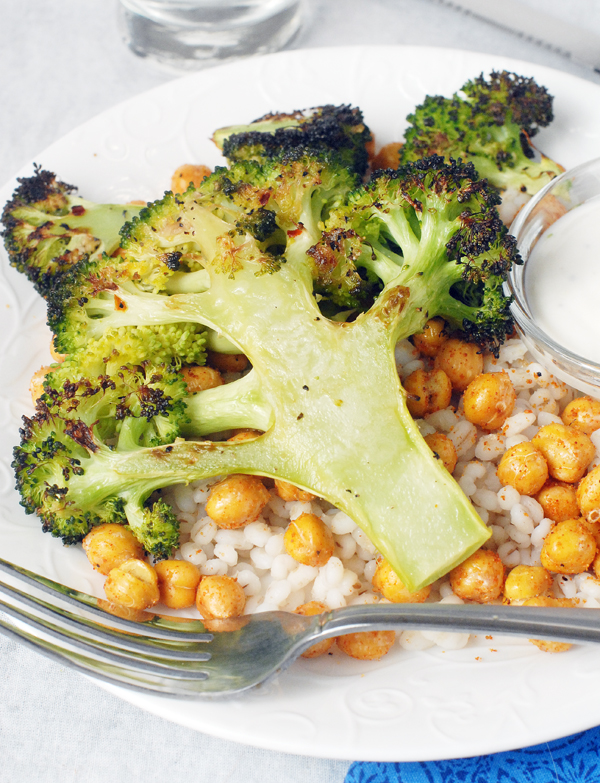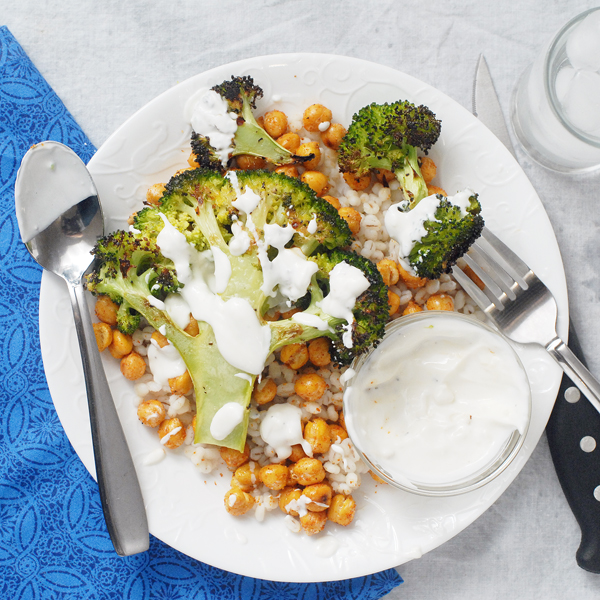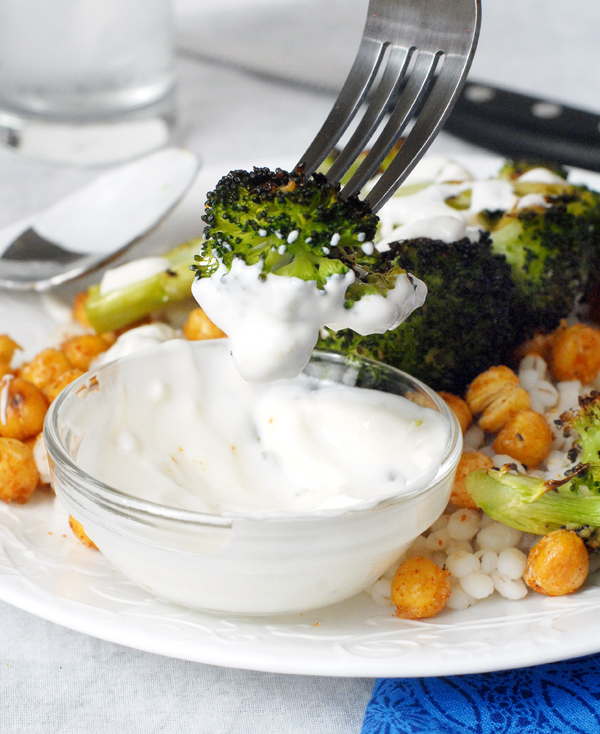 There are a few different types of fiber to consider when thinking about gut health.  Cellulose is the tough fiber found in the stalks of veggies like broccoli, cabbage, or Brussels sprouts, that our microbes love to nom on.  Fructans are types of fiber high in prebiotics, found in foods like legumes (beans and chickpeas) and artichokes.  Prebiotics nourish the good bacteria in your gut and keep them healthy!  You'll find a little bit of everything in this recipe to keep your gut on the right track.
Tips and Tricks for the roasted broccoli steaks and chickpeas with yogurt sauce recipe:
I chose barley because it's higher in fiber than other grains.  You can use whatever grain you have on hand.
I cut the broccoli into steaks for presentation of the recipe.  If you struggle to cut the steaks, you can always simply roast florets and stem pieces.
The chickpeas get crunchy when roasted, and this also means they dry out.  If they are too dry for you, try making extra yogurt sauce to add moisture to the dish.
Roasted Broccoli Steaks and Chickpeas with Yogurt Sauce
Roasting broccoli gives it an addicting caramelized flavor, making it an unforgettable dinner. Try my roasted broccoli steaks and chickpeas with yogurt sauce for a meatless meal!
Author:
Alison's Allspice
Ingredients
Broccoli
1 head of broccoli, about 12 oz
2 TBS olive oil
2 garlic cloves, minced
¼ tsp each: salt, black pepper, red pepper flake
Chickpeas
1 cup cooked chickpeas
1 tsp olive oil
¼ tsp each: onion powder, garlic powder,
⅛ tsp each: salt, black pepper, paprika
Yogurt sauce
½ cup plain Greek yogurt
1 garlic clove, minced
½ tsp red wine vinegar
Pinch salt and pepper
To serve
1½ cups cooked pearled barley
Instructions
Preheat oven to 425 F.
Broccoli
Cut broccoli head in half. Slice off the side of each half to create a ½ inch steak. Combine the 2 steaks, and the remaining florets in a large bowl.
Whisk together olive oil, garlic, and broccoli seasonings. Pour over broccoli and toss until well coated. Transfer broccoli to a parchment lined baking sheet. Arrange using about ⅔ of the sheet so that the broccoli is not touching.
Chickpeas.
Roll chickpeas between 2 pieces of paper towel to get them as dry as possible. Toss with olive oil.
Transfer chickpeas to the remaining third of the parchment lined baking sheet. Bake the chickpeas and broccoli in the oven for 10 minutes. Flip broccoli and toss chickpeas, and roast 10 more minutes.
Immediately when the chickpeas come out of the oven toss them with the spices in a medium bowl.
Yogurt sauce
Meanwhile, combine all ingredients for the yogurt sauce. Set aside.
To serve
Place ¾ cup barley on 2 plates. Top with chickpeas, a broccoli steak, and a few florets. Serve with yogurt sauce.
Notes
If you don't use pre-cooked pearled barley, this recipe will take significantly longer. I made a large batch of barley over the weekend to use throughout the week. Rinse cooked barley, and toss with a little olive oil to keep it from sticking together.
Recipe inspired by
Coffee and Crayons
, and
A Beautiful Plate
.