Today I have a simple recipe to share.  I have always loved ravioli, a comfort food from my childhood.  This bake is lasagna like, with layers of noodles, cheese, sauce, and veggies.  If you still have family hanging around after the holidays, this dish can be adapted to fit anyone's taste.  It goes in and out of the oven in a cinch!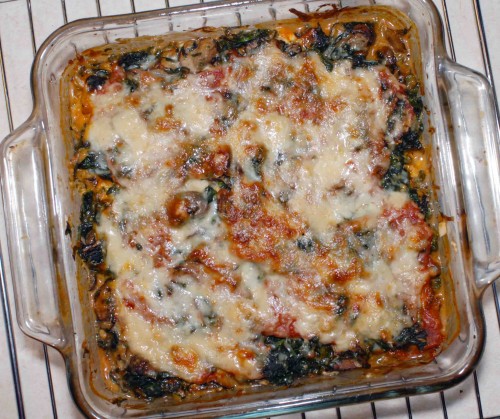 I love earthy mushrooms and spinach in this dish.  They pair well with the bright tomato sauce and tangy cheese.  If you are looking for another veggie option, shredded zucchini and carrot would work well.  Or try sauted onions and peppers.  Yum!  The best part of cooking at home is making a recipe the way you want to.  Check out my suggested variations just after the recipe.  Enjoy!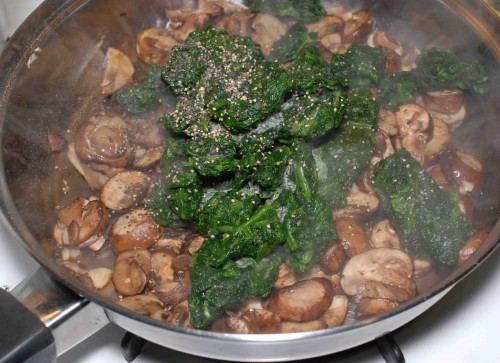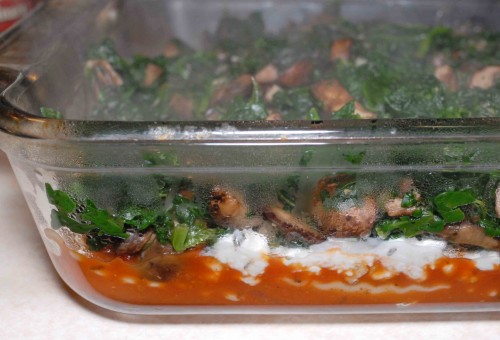 Ravioli Bake with Spinach and Mushrooms
This recipe is easily adaptable, and goes in and out of the oven in cinch!
Author:
Alison's Allspice
Ingredients
Veggies
8 oz portabella mushrooms, chopped
1 garlic clove, minced
Splash olive oil
1½ cups frozen spinach
¼ tsp black pepper
Cheese Filling
1 cup cottage cheese
1 garlic clove, minced
½ tsp basil
¼ tsp oregano
¼ tsp crushed red pepper
¼ tsp salt
Bake
1 cup marinara sauce
½ cup mozzarella
¼ cup shaved Parmesan
Instructions
Preheat oven to 350°F.
Cook ravioli according to package directions. Drain and spread out on a parchment lined baking sheet so that they do not stick together while you prepare the remaining ingredients.
Add a splash of olive oil to a skillet over medium heat. Cook mushrooms and garlic until liquid starts to form in the pan. Add frozen spinach and black pepper and cook until spinach is thawed, stirring occasionally. Cover with a lid if the skillet is getting too dry.
Mix together all ingredients for the cheese filling. Set aside.
In a 9x9 inch baking pan, spread ½ cup of marinara sauce. Nestle the ravioli down into the sauce. Spread the cheese filling over the ravioli and top with all of the veggie filling. Spread the remaining sauce over the veggies and sprinkle with the cheeses.
Bake in the preheated oven for 30 minutes, or until the cheese is browned and the bake is bubbly.
Recipe Variations
Choose your favorite type of ravioli for this dish.  We like cheese or mushroom.
Swap out the veggies for your favorites.  Shredded zucchini and carrot, or peppers and onions would be good options.
Choose your sauce.  Marinara works well with the mushrooms and spinach, but Alfredo sauce or vodka sauce would be fun to experiment with!
I use low fat cottage cheese, but you could choose fat free, whole milk, or ricotta cheese, depending on your preferences.
Feeding a crowd?  Double the recipe and use a 9×13 inch pan.