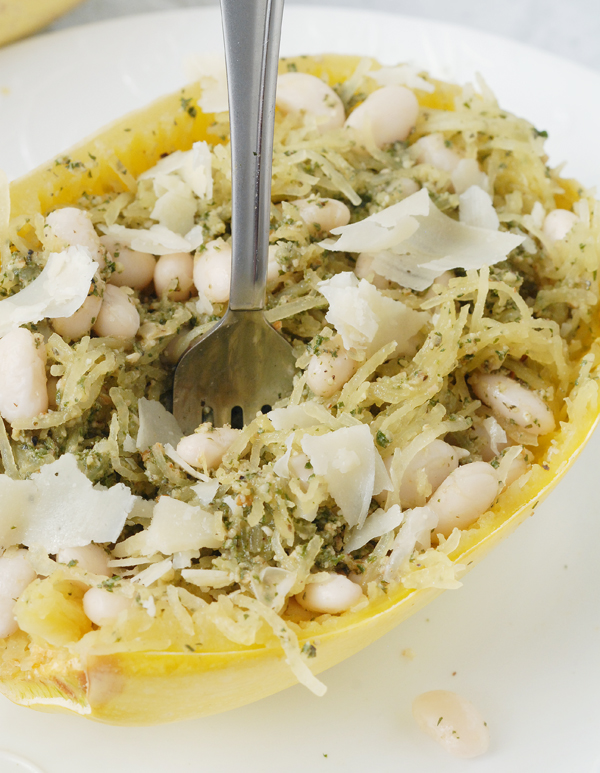 When you need a super-fast and easy meal, spaghetti squash probably doesn't come to mind.  However, cooking spaghetti squash in the microwave takes only 5- 10 minutes, depending on the size of the squash.  That gives you time to prep your filling and dinner can be on the table in no time at all!  Next time you need a fast and simple meal, try my pesto Parmesan white bean spaghetti squash bowls!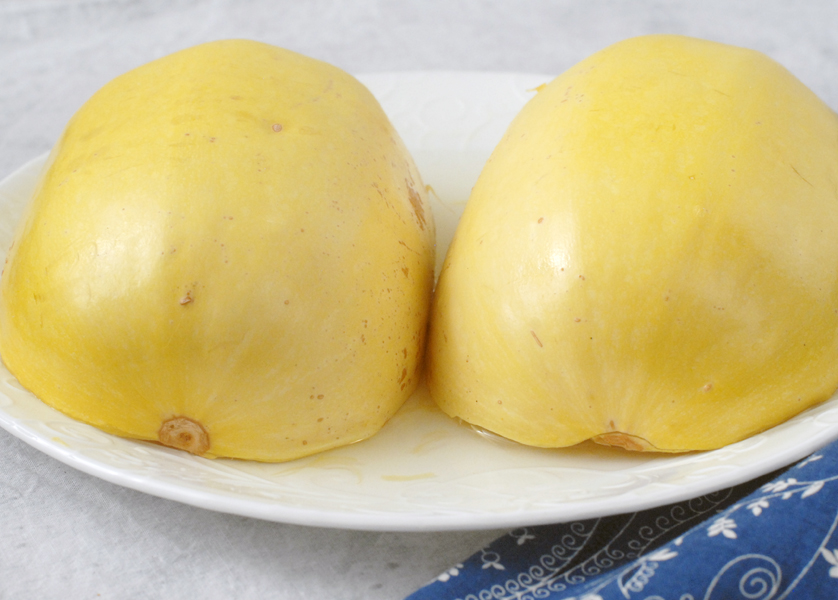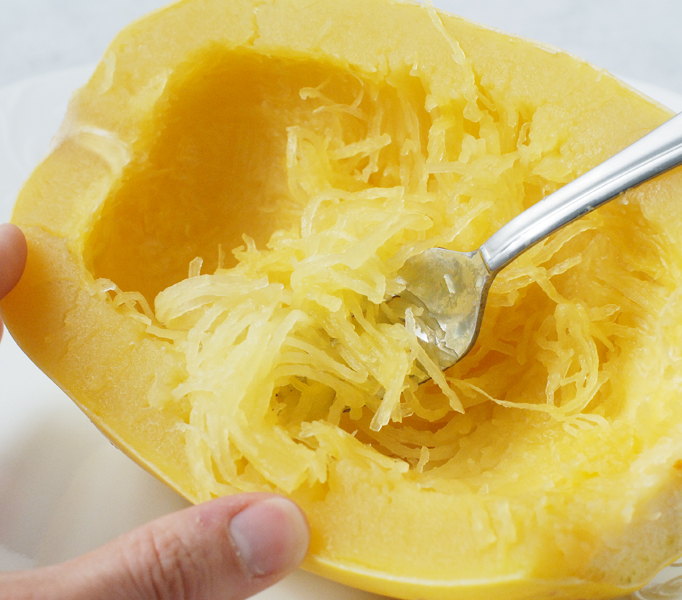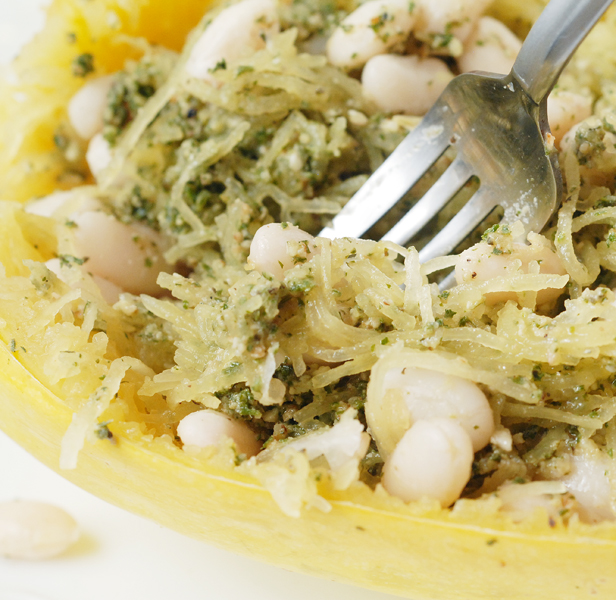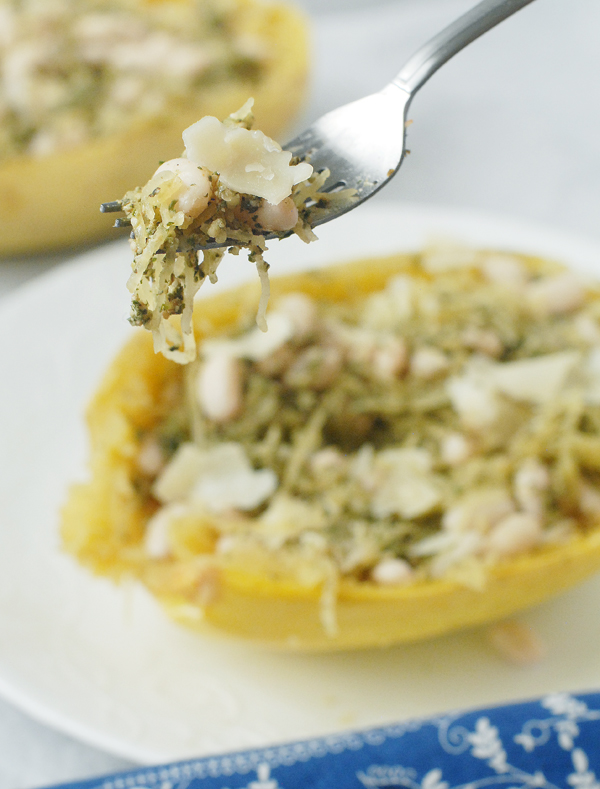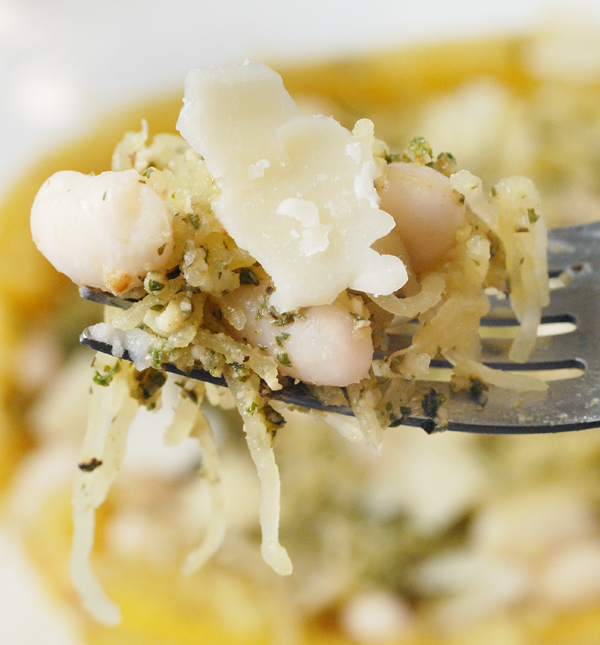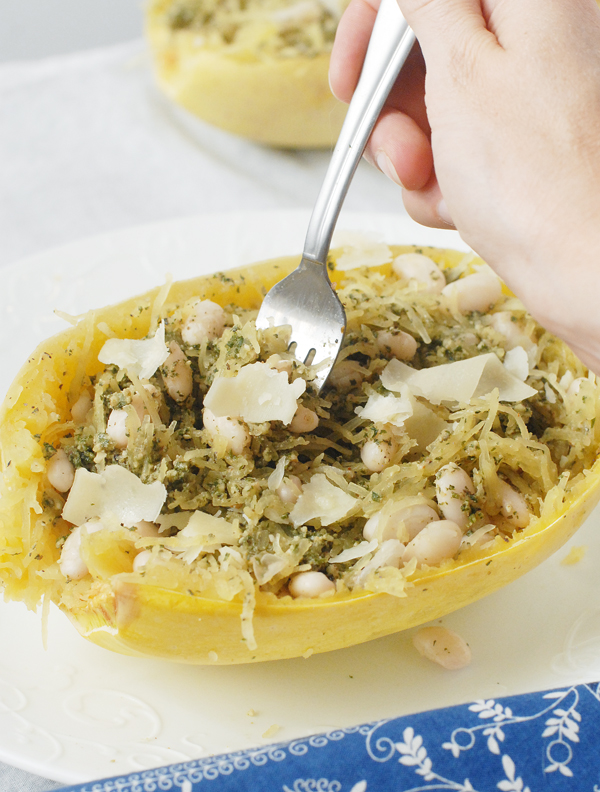 There are numerous filling options for spaghetti squash bowls.  The spaghetti squash has such a mild flavor, all it needs to make a fantastic meal is a flavorful sauce to soak up.  Last year I made an enchilada spaghetti squash that were fantastic. This year I had a lot of basil in the garden that I made into a huge batch of pesto, and the pesto added loads of flavor to the squash.  I added white beans for protein, and Parmesan because, you know, you can't go wrong with a little cheese!
Variations to the Pesto Parmesan White Bean Spaghetti Squash Bowls recipe:
Try any kind of pesto that you like.  Arugula pesto, cilantro pesto, or carrot top pesto would all be great variations!
If you have the time, choose your favorite method to cook the squash.  I used the microwave to be super-fast.  Oven roasting and slow cooking are both great options as well.
I love using the spaghetti squash husk as a bowl, but you can also transfer the cooked strands to a bowl for serving.
Pesto Parmesan White Bean Spaghetti Squash Bowls
Need a 5 ingredient meal that only takes 15 minutes? Try my pesto Parmesan white bean spaghetti squash bowls! Vegetarian, gluten free, and super easy too!
Author:
Alison's Allspice
Ingredients
1 large spaghetti squash (1-1.5 lbs)
½ cup prepared pesto
1 cup cooked white beans
Salt and pepper to taste
¼ cup shaved Parmesan
Instructions
Cut the spaghetti squash in half. Lay it cut side down on a plate with ~2 TBS water. Cook in the microwave for 5 minutes. Test the squash for doneness, and add more time as necessary. (Cooking times will vary by microwave.) The squash is cooked when the strands come out easily with a fork.
My squash took 8 minutes total.
Using a hot pad to hold the squash, scrap up the spaghetti squash strands using a fork. You can transfer the strands to a bowl, or use the squash husk as a bowl.
Mix in pesto, white beans, and salt and pepper to taste (a few grinds from a grinder of each).
Garnish with Parmesan and serve.