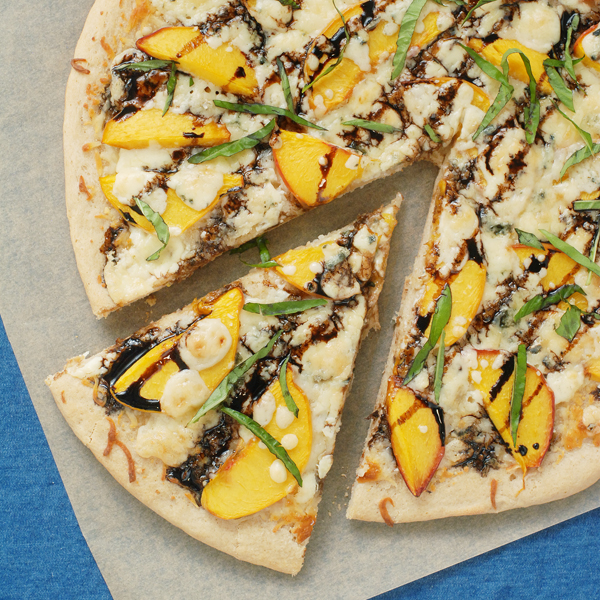 This pizza is one of my favorites.  Pizza is on regular rotation at my house, and it is always something special, like this peach basil pizza with balsamic drizzle.  It is loaded with fresh summer flavors; we simply can't get enough!  I love to incorporate fresh seasonal ingredients on pizza.  The peach is juicy and along with the balsamic drizzle, there is plenty of moisture so you don't need any sauce.  Top with melty cheese and some fresh herbs, you'll be eating it all summer long!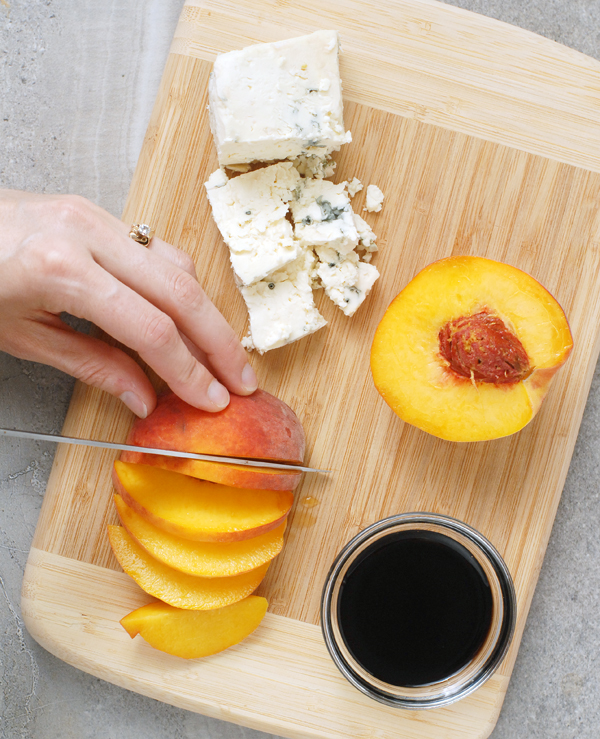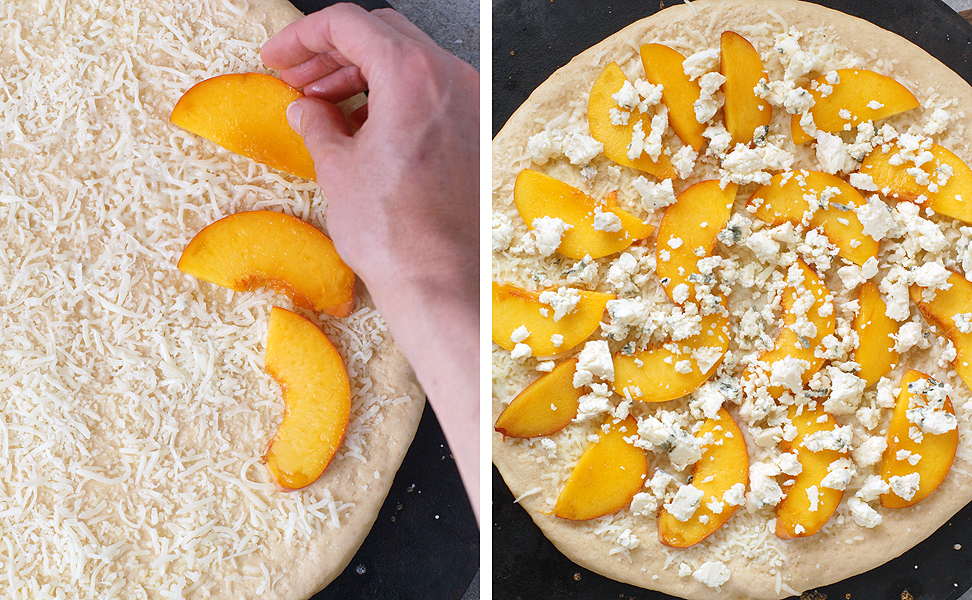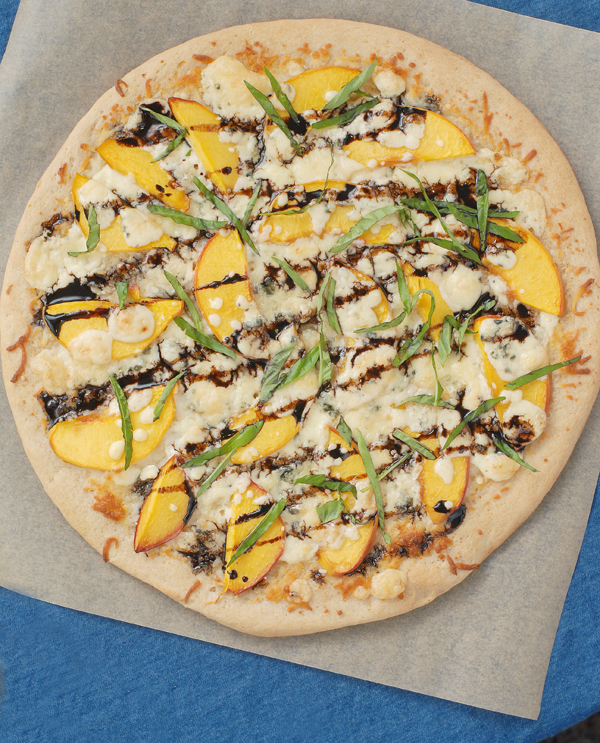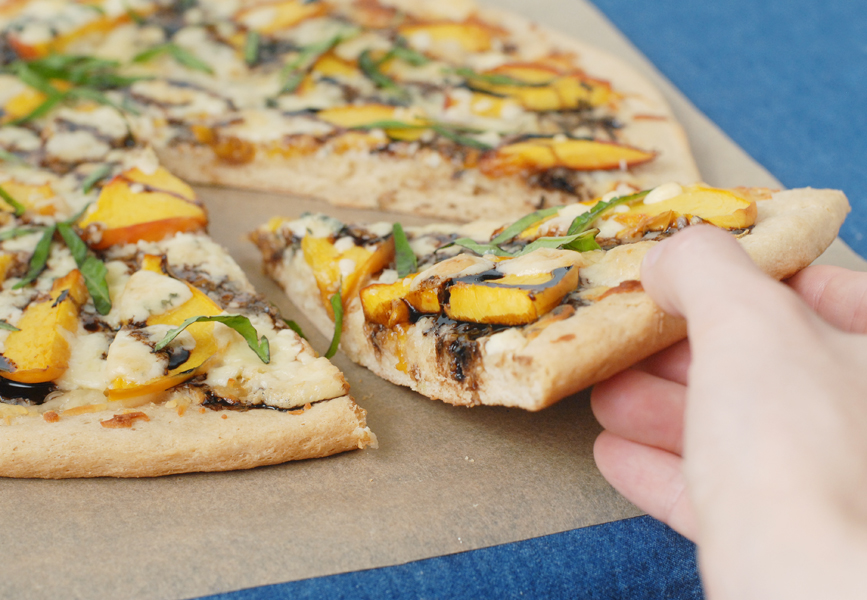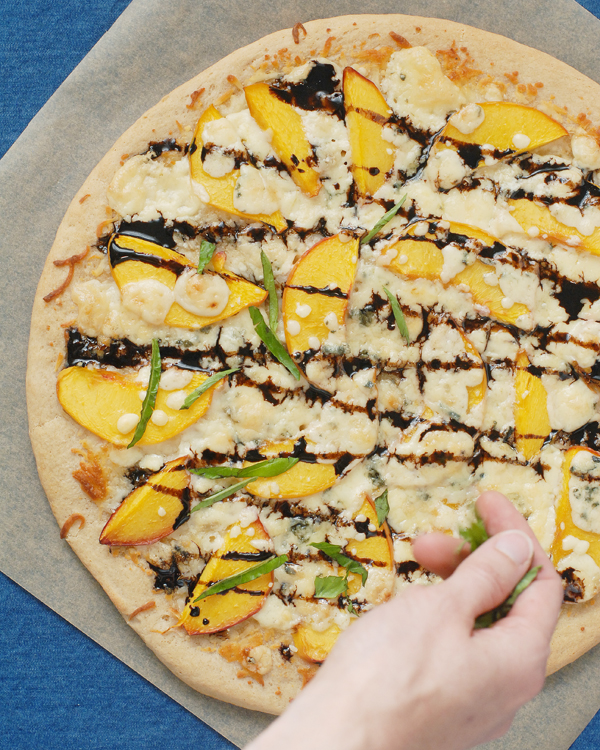 I always cook my pizza's on a pizza stone.  I like this black pizza stone
 because it is easy to clean and doesn't show stains from burnt cheese.  You can also get a stainless steel pizza peel
 to make it easier to transfer the pizza into the oven.  I prefer this peel over those made of aluminum.  When I am traveling or cooking at my families homes, I take this pizza screen/pan
 with me.  It makes a crispy crust, it's lighter weight, and less expensive than a stone.
Variations to the Peach Basil Pizza with Balsamic Drizzle recipe:
To make this pizza with a stone, and not a pizza peel, simply take the stone out of the oven and place it on the stove top.  Place the dough on top and quickly top with all your toppings, and put the whole thing back into the oven.  P.S.  The stone is hot, so grab some oven mits!
I have tried this pizza with canned peaches, and with frozen peaches. Don't waste your time because fresh peaches is by far the best way.
Get a quality gorgonzola. I find the block to have more moisture and flavor. Try feta, ricotta, or goat cheese if you don't like blue cheese.
Check out my quick homemade whole wheat pizza dough recipe if you don't already have a favorite!
Peach Basil Pizza with Balsamic Drizzle
This peach basil pizza with balsamic drizzle is with loaded with summer flavors! Try it on a whole wheat crust with Gorgonzola cheese!
Author:
Alison's Allspice
Ingredients
1 whole wheat pizza dough recipe
1 tsp olive oil
½ cup mozzarella, shredded
1 medium peach, sliced
3 oz block Gorgonzola cheese, chopped
¼ cup balsamic vinegar
10 basil leaves
Instructions
Preheat oven with a pizza stone to 425 F.
Prepare pizza crust and press into a circle. Brush with 1 TBS olive oil.
Top with mozzarella, peach slices and Gorgonzola.
Transfer to the pizza stone and bake for 12 minutes.
Meanwhile, place balsamic in a small sauce pan. Bring to a boil and simmer for 5 minutes, or until it is syrupy and reduced to about 1 TBS.
Slice basil leaves into long thin strips.
Drizzle balsamic over cooked pizza and top with fresh basil.
This recipe is inspired by
Cooking Light.
  I shared this recipe at
Meatless Mondays
, please see my
sharing page
to see all the link parties I participate in!
Please Pin if you like this recipe!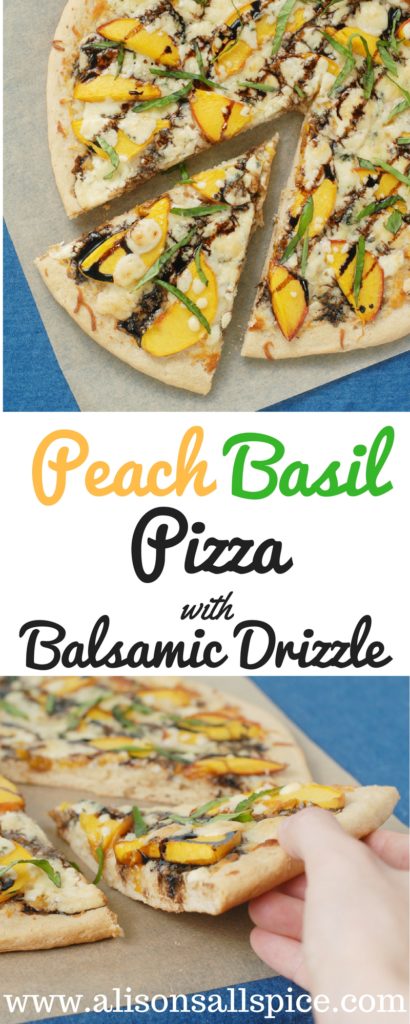 This post contains affiliate links for products I use and recommend. If you purchase through those links, I may earn a commission at no additional cost to you. Thank you for supporting Alison's Allspice.