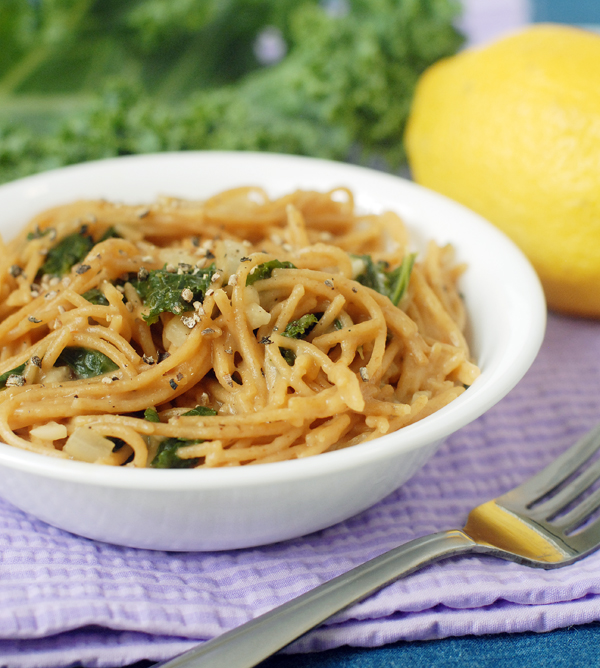 I love pasta, maybe a little too much.  It's one of those foods that I could just eat all day!  There are so many fun ways to prepare it, and it goes with everything.  Everything!  I don't know why it took me this long to try a one-pot pasta dish.  One pot dishes are always helpful and handy when life is crazy.  And when life is crazy, you need a comforting delicious meal to help you focus on the important things.  This lemony garlic kale one pot pasta is fresh and light, eat a little, or eat a lot!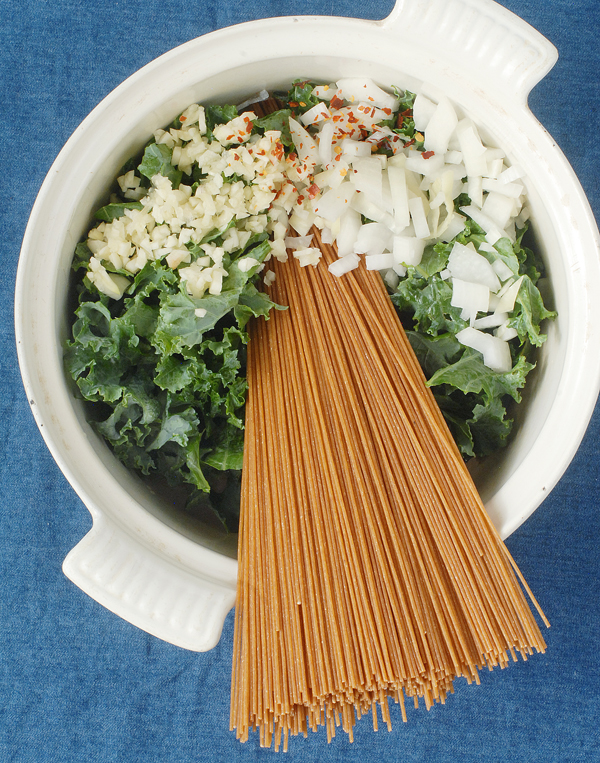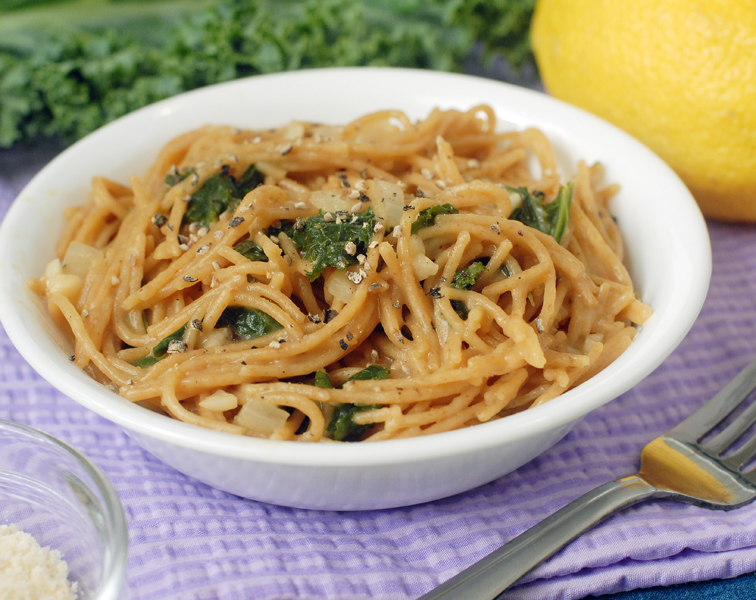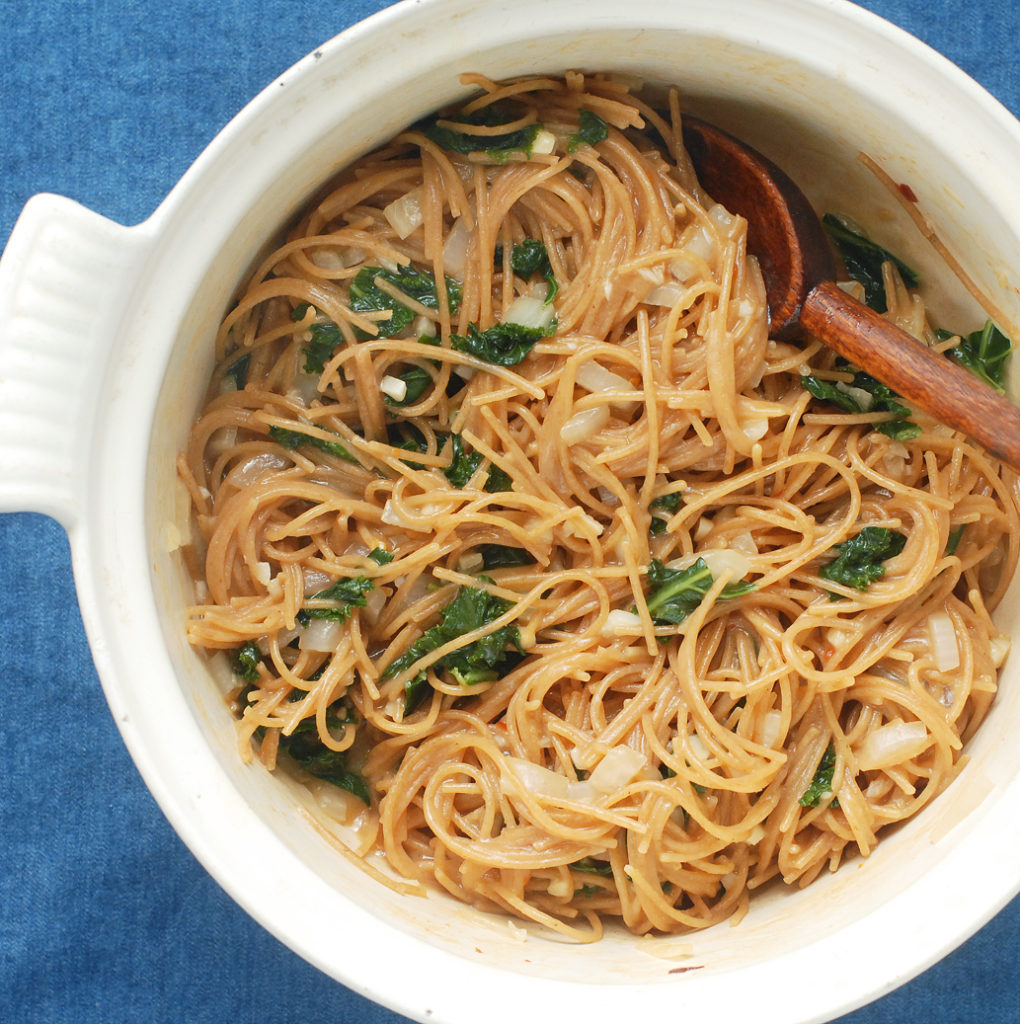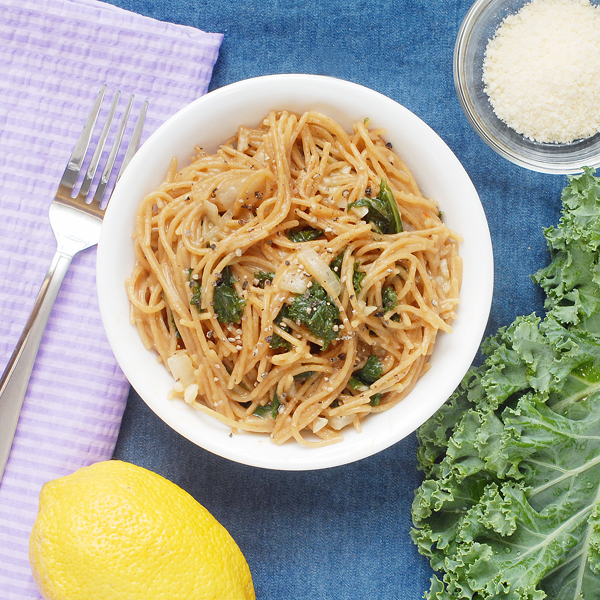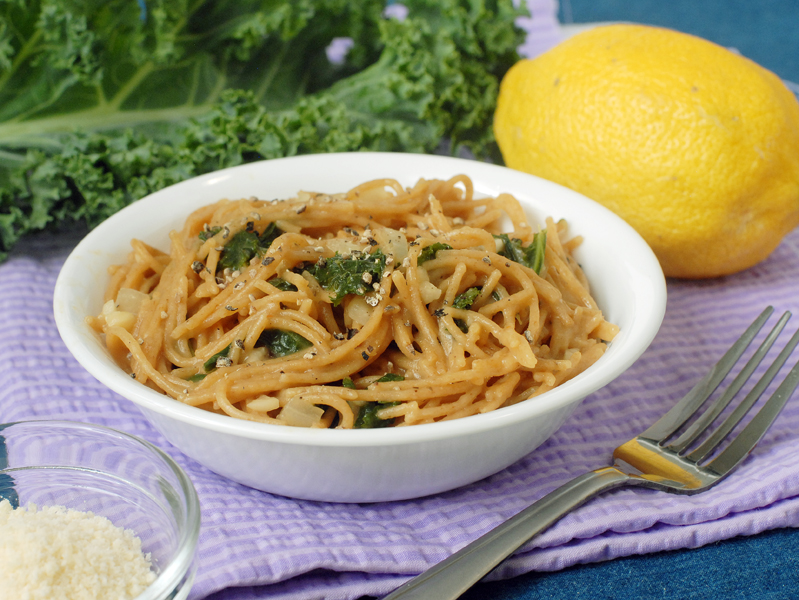 I find that one pot pastas are best when eaten fresh.  Because you don't strain out the pasta water, all the starches make the pasta stick together as leftovers.  I made this recipe to only serve 2, and I made it in a small dutch oven
 (I love the lodge brand!).   Is anyone else obsessed with their wooden spoon collection!? I love them to protect the enamel coating on my dutch ovens, and I really do have a collection going!  I dream about re-doing my kitchen, and these cherry spoons
 will fit right in!
Variations to the Lemony Garlic Kale One Pot Pasta recipe:
If you're not a fan of kale, try another leafy green in this dish.  Spinach or Swiss chard would be good choices.
Skip the Parmesan to keep this recipe dairy- free and vegan.
I used thin spaghetti to make this dish cook really fast!  If you try a thicker pasta, boil for 2/3 of the pasta's cooking time.  It doesn't need full boiling time because it has been sitting in and soaking up liquid while waiting to come to a boil.
Lemony Garlic Kale One Pot Pasta
This lemony garlic kale one pot pasta is the best ever weeknight meal! It only takes 20 minutes, and only dirties one dish!
Author:
Alison's Allspice
Ingredients
6 oz whole wheat thin spaghetti
2 cups packed kale, from 1 extra large leaf, or 2 small
3 garlic cloves, minced
⅓ cup yellow onion, diced
¼ tsp black pepper
pinch red pepper flake
1¾ cups vegetable broth
juice of 1 lemon
Parmesan, for serving (optional)
Instructions
In a medium pot combine spaghetti through vegetable broth.
Bring to a boil and simmer for 4 minutes (or ⅔ of the original cooking time).
Remove from heat and stir in lemon juice.
Garnish with more cracked black pepper and serve with parmesan if using.
Recipe inspired by
V Nutrition
.  If you are crazy in love with kale, like me, check out this post on the
health benefits of kale
.  The article is unique because it links back to scientific articles that have actual evidence for all the benefits of kale!