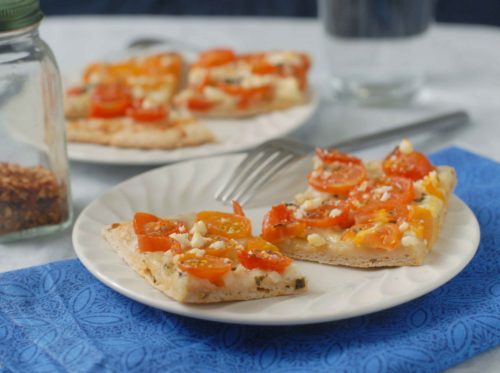 Welcome back for another recipe, friends!  I haven't posted in a while because I have been busy with a new job!  I am teaching at a local community college; it is fun and exciting but also very time consuming.  As I settle into my new routine, recipe posts will get more and more frequent.  During this busy time in my life, simple recipes have been a must.  This herbed cherry tomato pizza recipe has been great because I always have pizza crust ingredients on hand, and I am getting tons of cherry tomatoes in my CSA!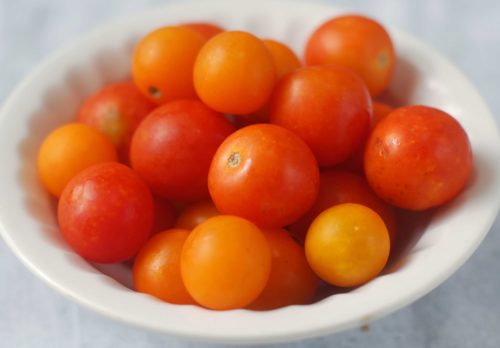 I tried this recipe with both a thin crust and a normal, or hand tossed crust.  My family usually really likes thin crust pizza, but we preferred this pizza on the hand tossed crust.  Be sure to load on the cherry tomatoes!  Because this recipe doesn't use a sauce, most of the moisture on the pizza comes from the tomato slices.  Enjoy!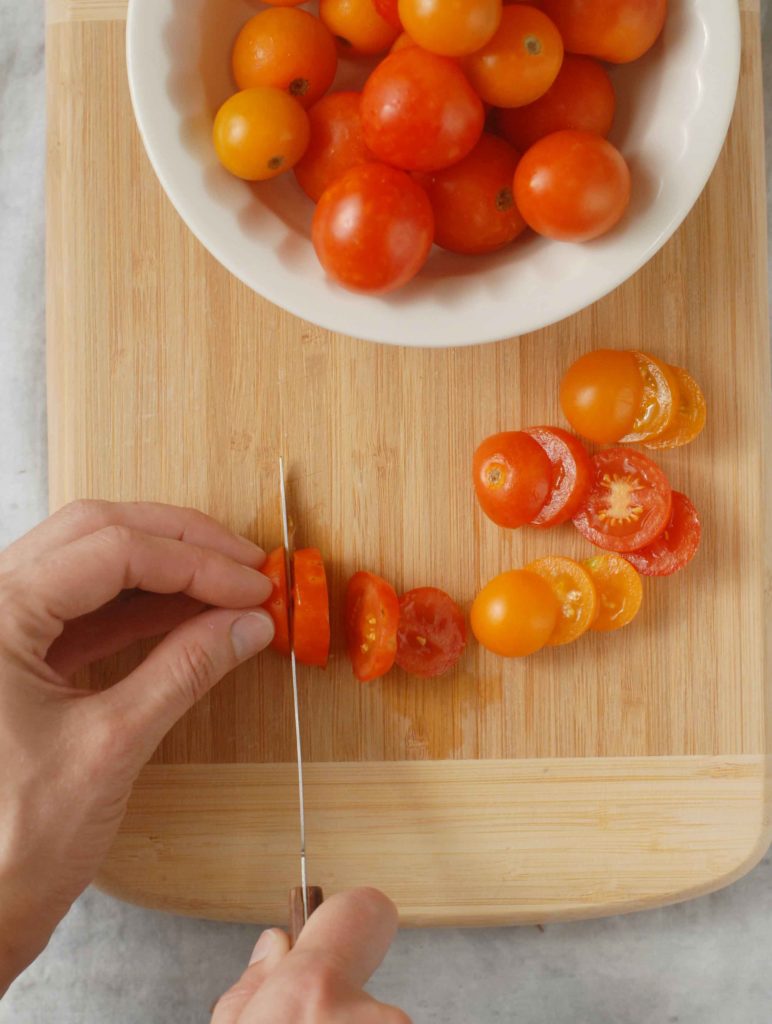 Variations to the Herbed Cherry Tomato Pizza recipe:
I used oregano and rosemary as my herbs.  Basil or thyme would be fantastic as well!
This recipe can be made with regular tomato slices, such as romas, but the flavor will be very different because they aren't as sweet as cherry tomatoes.
We love garlic and put it into all of our pizzas.  If you're not a garlic lover, you can leave it off.
Choose your favorite shredded white cheese blend to use on this pizza.  Fresh mozzarella slices would be great too!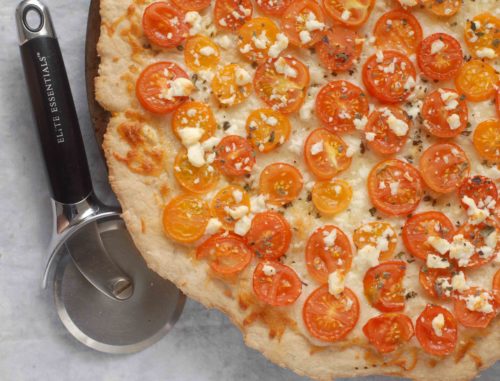 Herbed Cherry Tomato Pizza
Author:
Alison's Allspice
Ingredients
Herbed Pizza Dough:
1 cup whole wheat flour
2¼ tsp rapid rise yeast
2 tsp dried rosemary
1½ tsp sugar
¼ tsp salt
3 TBS olive oil
⅔ cup hot water (120-125°F)
½ cup all purpose flour, plus some for kneading
Toppings
2 tsp olive oil
3 garlic cloves, minced
1½ cups shredded cheese
15-20 cherry tomatoes
⅓ cup crumbled feta cheese
1 tsp dried oregano
Instructions
Herbed Pizza Crust
Mix together whole wheat flour through salt. Pour in liquids and stir until combined.
Mix in all purpose flour until a shaggy dough forms. Knead the dough on a clean surface for 2-3 minutes or until it is elastic. Use extra flour it keep it from sticking to the surface or your hands.
Press into a 12 inch circle and let it sit in a warm place while the oven preheats, approximately 20 minutes.
Toppings
Preheat oven and a pizza stone to 425°F.
Slice cherry tomatoes into thirds.
Carefully pull the stone out of the oven and place on the cook top. Transfer the dough to the stone.
Working quickly, brush the dough with olive oil and sprinkle with garlic. Top with shredded cheese and cover with cherry tomato slices. Sprinkle with feta and oregano.
Bake in the preheated oven for 12 minutes, or until the cheese is melted and starting to brown.
Slice pizza and serve.
This recipe was shared at
Meatless Monday
 and
Cook Share Blog
.