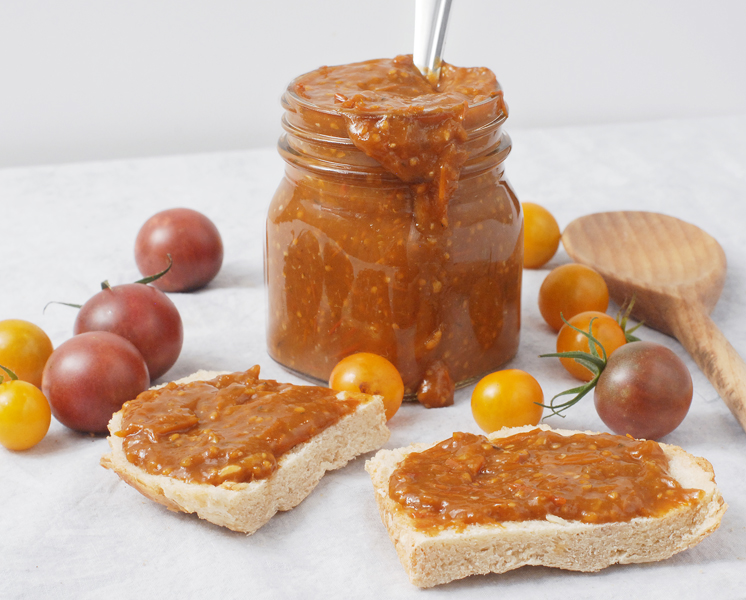 I started most of my garden plants from seed this year.  The cherry tomatoes have been the most interesting to see mature.  They were an heirloom variety, but for some reason I expected that they would still be cherry red.  If have two plants, one produces purple tomatoes, and the other gold!  Surprise!  The tomatoes have still been a delicious treat this summer, and I especially love them in this heirloom cherry tomato balsamic jam!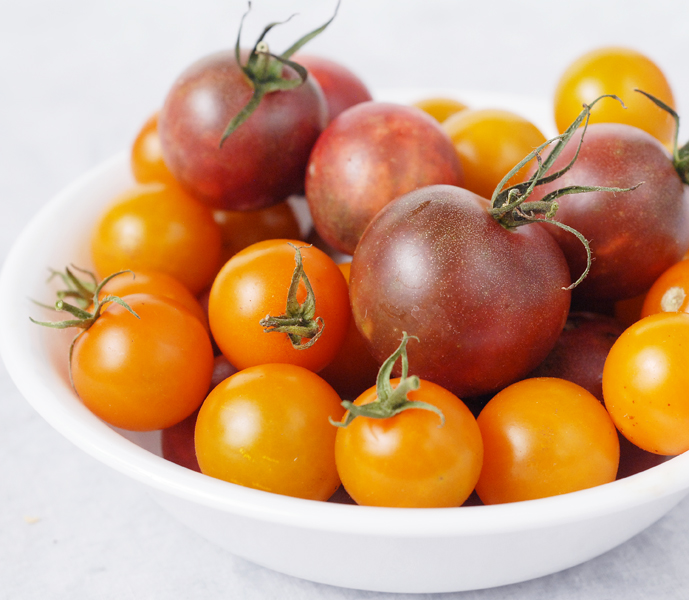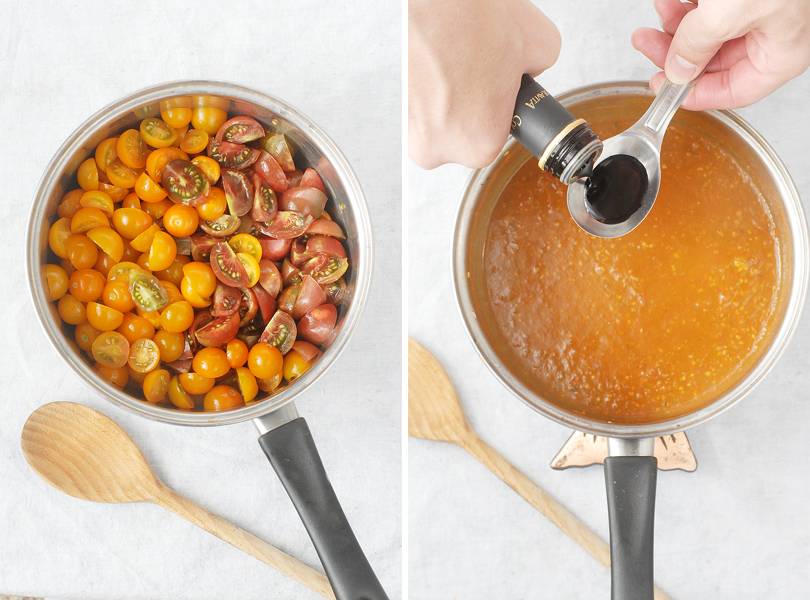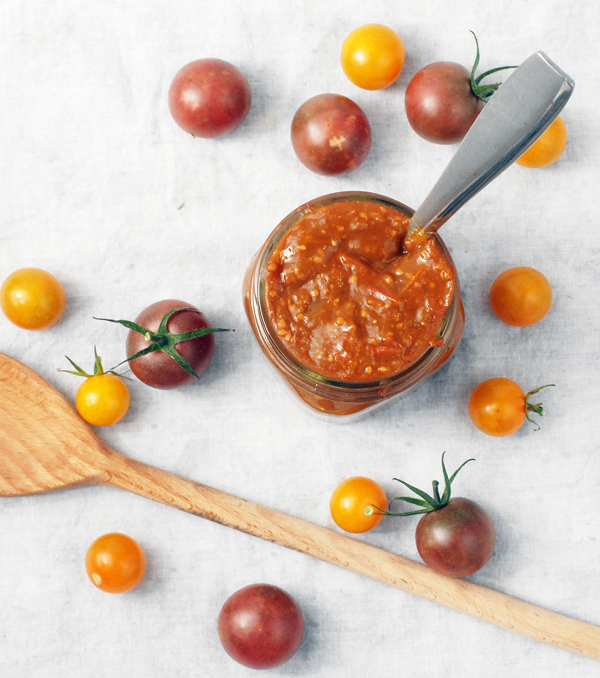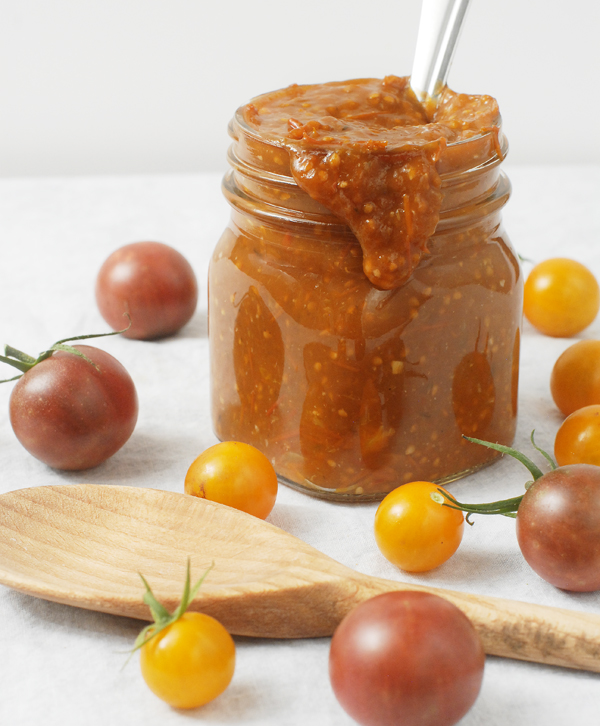 This jam has many delicious applications.  Spread it on your morning toast, try it on a sandwich with grilled veggies or fresh veggies.  I enjoy it most on a grilled cheese with Havarti! I think you could even toss it with pasta and sprinkle with Parmesan.  How will you use the jam? Let us know in the comments!
Variations to the Heirloom Cherry Tomato Balsamic Jam recipe:
I love the sweet balsamic in this jam.  You could try just about any of your favorite vinegars, like apple cider, white wine, or sherry.  Taste and increase sugar as necessary if you use a less sweet vinegar.
I stock cornstarch, so that is what I used to thicken the jam.  You could try arrowroot powder as well, or you could let the jam thicken by cooking it for another hour or so.  The longer it cooks, the more stirring it will need to prevent sticking.
If you love onions, try fresh in stead of onion powder.  Use 1/2 cup minced onion, and saute in olive oil before adding to the jam.
I use a wand blender to break up the tomato skins.  This is an optional step, and if you skip it, you jam will be chunky with tomato skins instead of smooth.
Heirloom Cherry Tomato Balsamic Jam
This heirloom cherry tomato balsamic jam is going to be your new favorite summer condiment! Try it on a grilled cheese sandwich or toss with pasta!
Author:
Alison's Allspice
Ingredients
2 pints heirloom cherry tomatoes (1½ lbs)
3 garlic cloves, minced
½ tsp onion powder
¼ tsp thyme, salt and red pepper flake, each
1 tsp sugar
2 TBS balsamic vinegar
1 TBS cornstarch
Instructions
Cut cherry tomatoes in half. Place in a medium pot with garlic, onion powder, thyme, salt and red pepper flake.
Bring to a boil. Simmer covered for 20 minutes.
Process with a wand blender for 30 seconds (optional for a smoother jam).
Continue to simmer for 30 more minutes, uncovered.
Stir in sugar and balsamic vinegar. Taste and increase sugar and salt as necessary.
Remove ¼ cup jam from pot. Whisk in cornstarch. Pour the cornstarch mixture back into the jam. Stir to combine.
Bring to a boil and simmer until thickened. Remove from heat and cool. The jam will thicken more as it cools.
Makes 1½ cups jam, and will thickly cover about 10 sandwiches
Adapted from
She Likes Food
.  Please see my
Sharing Page
for all the link parties I participate in!
Please Pin if you like this recipe!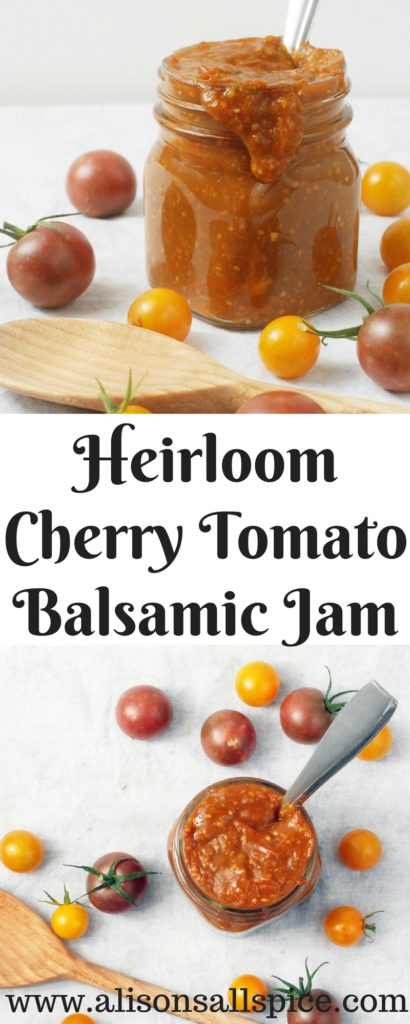 This post contains affiliate links for products I use and recommend. If you purchase through those links, I may earn a commission at no additional cost to you. Thank you for supporting Alison's Allspice.