Disclaimer:  "I received free samples of Libby's Fruits & Vegetables mentioned in this post. By posting this recipe I am entering a recipe contest sponsored by Libby's Fruits & Vegetables and am eligible to win prizes associated with the contest. I was not compensated for my time."
My parents taught me how to make a grilled cheese sandwich at a very young age.  They encouraged me to cook as a kid, and maybe that's why I enjoy it so much today – it takes me back to my youth.  Back then, my grilled cheese sandwiches were simply made with cheddar, but this Gouda grilled cheese with apricot ginger spread is a delicious adult take on the simple and convenient grilled cheese sandwich.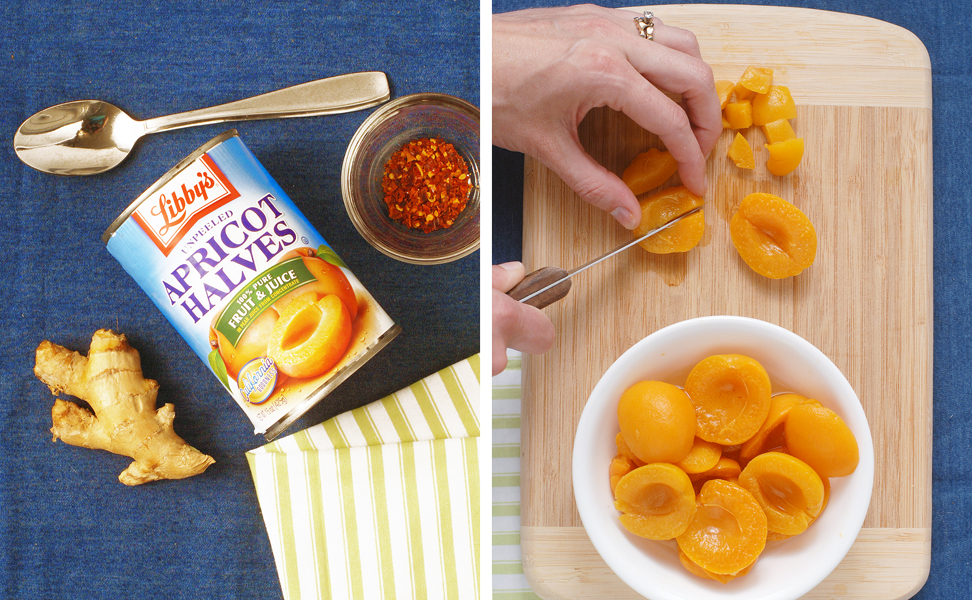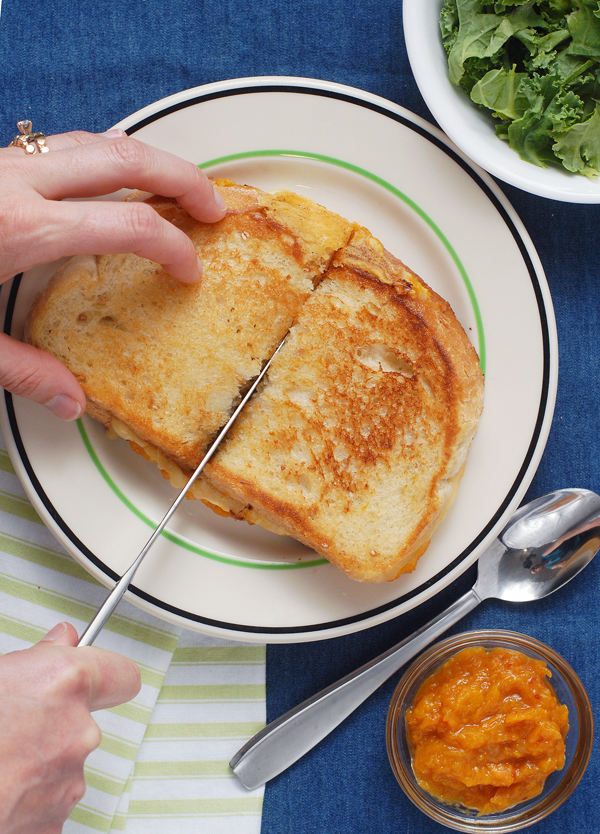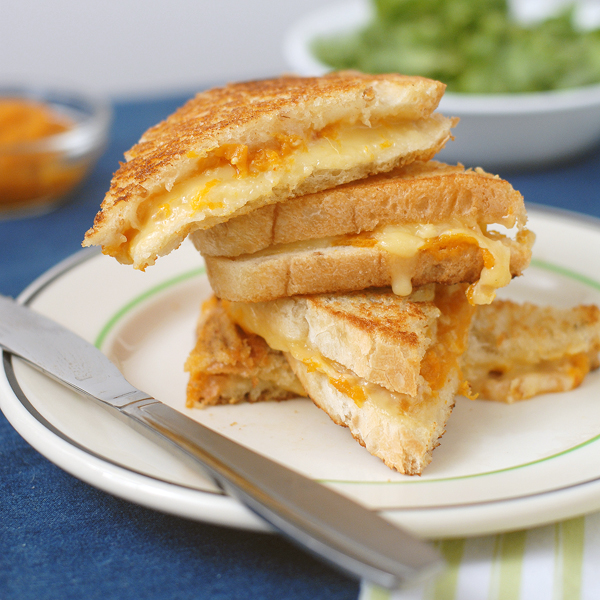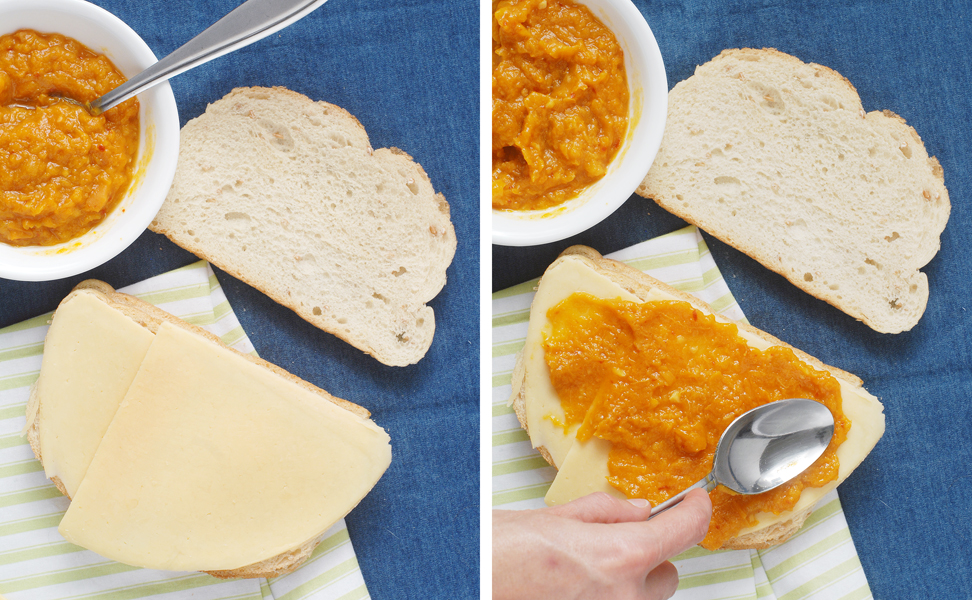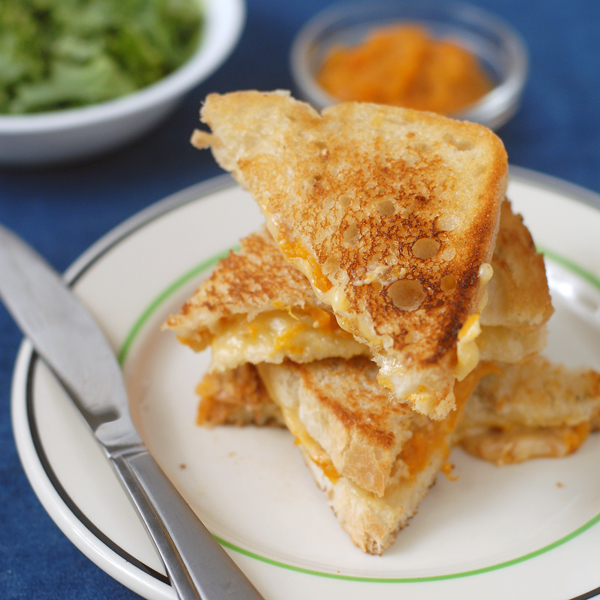 I was really impressed with the canned apricots I received from Libby's as a sample.  They were canned in 100% fruit juice, with no added sugar, which is exactly the kind of wholesome ingredient you can feel good about feeding your family.  It was easy and convenient to pop open the can and go straight to making the spread for these sandwiches, without any fuss.  The apricots changed this meal from a simple sandwich to a gourmet dinner!
Variations to the Gouda Grilled Cheese with Apricot Ginger Spread recipe:
Cheese: I loved the combination of the smokey Gouda with the sweet apricots.  Lots of other cheeses will also work.  Try Monterey jack, Munster, or even brie.
Kid friendly: I used red pepper flake to balance the sweetness of the apricots and did not find the spread to be spicy at all.  If you are making this recipe for kids, you might consider omitting it.  Kids will enjoy the sweet spread.
Ginger: The ginger adds a sweet and sour note to the spread that I loved.  If you don't like ginger, simply omit it.
Gouda Grilled Cheese with Apricot Ginger Spread
Gouda grilled cheese with apricot ginger spread is a splurge worthy meal that is simple, convenient, and easy to make. Try it on sourdough bread!
Author:
Alison's Allspice
Ingredients
Apricot Ginger Spread
15 oz can Libbys Apricots Halves
1 TBS fresh minced ginger
¼ tsp red pepper flake
1 tsp apple cider vinegar
8 sliced sourdough bread (whole wheat if possible)
2½ TBS butter, softened
6 oz sliced smoked Gouda (4-6 slices depending on size)
Instructions
Apricot Ginger Spread
Drain the apricots, reserving 3 TBS juice. Dice apricots and place in a small sauce pan with the reserved juice. Mix in ginger and red pepper flake.
Bring to a boil and simmer for 10 minutes. Meanwhile stir frequently, mashing the apricots with a fork to make a smooth sauce. When thick remove from heat and stir in vinegar. Let rest 5 minutes while you prepare the sandwiches (it will continue to thicken as it cools).
Sandwiches.
Spread a scant teaspoon softened butter over one side of each slice of bread. Put the buttered sides of the bread together to make 4 sandwiches (and avoid a buttery mess while you file the sandwich). On the unbuttered side facing up, spread about ¼ cup apricot spread, and top evenly with the cheese.
Preheat a heavy bottomed skillet (I prefer cast iron) over medium high heat. When water sizzles on contact, place the buttered side of the sandwich into the skillet. Top with the other slice of bread, butter side facing up.
Flip sandwich after 1-2 minutes, or when it turns golden brown. Cook the other side until golden brown and repeat with remaining sandwiches.
Cut into wedges and serve immediately.
Notes
You can reduce the cooking time by using a pan large enough to fit 2 sandwiches at once.
I shared this recipe at Meat Free Monday,  Meatless Mondays, Melt in your mouth Monday, Made by You Monday, Tasty Tuesday, and Two Cup Tuesday.

Please Pin if you like this recipe!