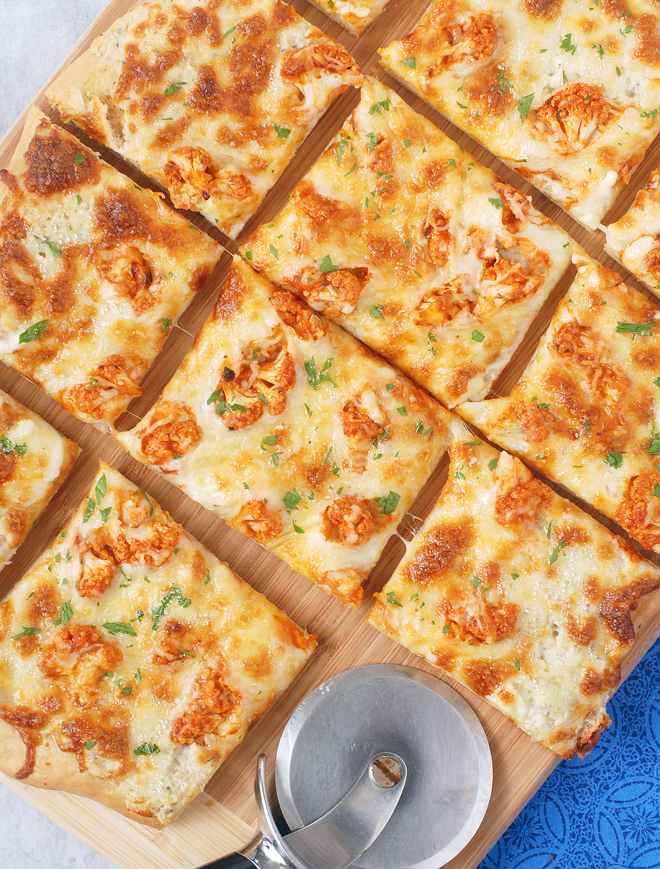 I spend a fair amount of time over on pinterest looking at recipe ideas and getting inspired by other bloggers.  Buffalo pizza's caught my eye there because I love all things buffalo.  Reviewing recipes, I noticed that the sauce you can use on a buffalo pizza varies quite greatly.  Some people use the buffalo sauce as a base, but that means every bite is is loaded with spice and their is no relief from the heat.  Some recipes use bottled ranch dressing, but I didn't like the sound of that either.  I developed my buffalo cauliflower blue cheese pizza with a homemade blue cheese pizza sauce!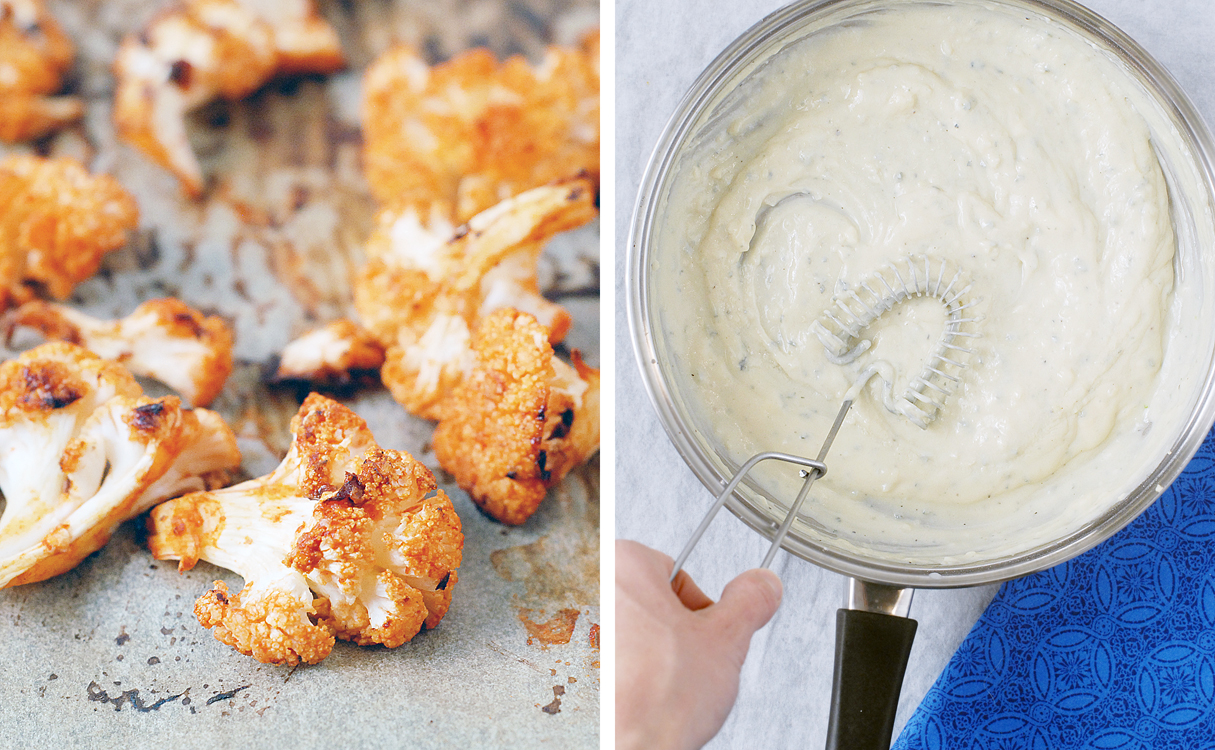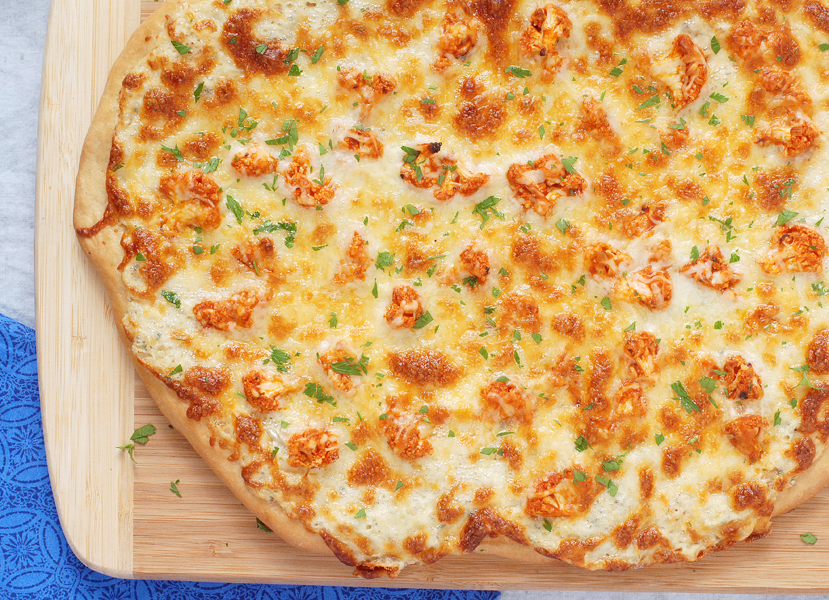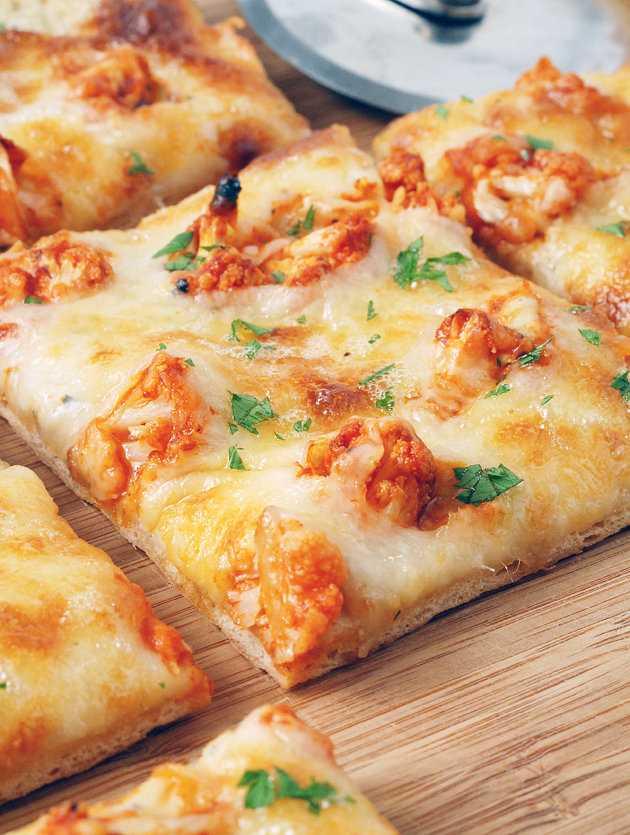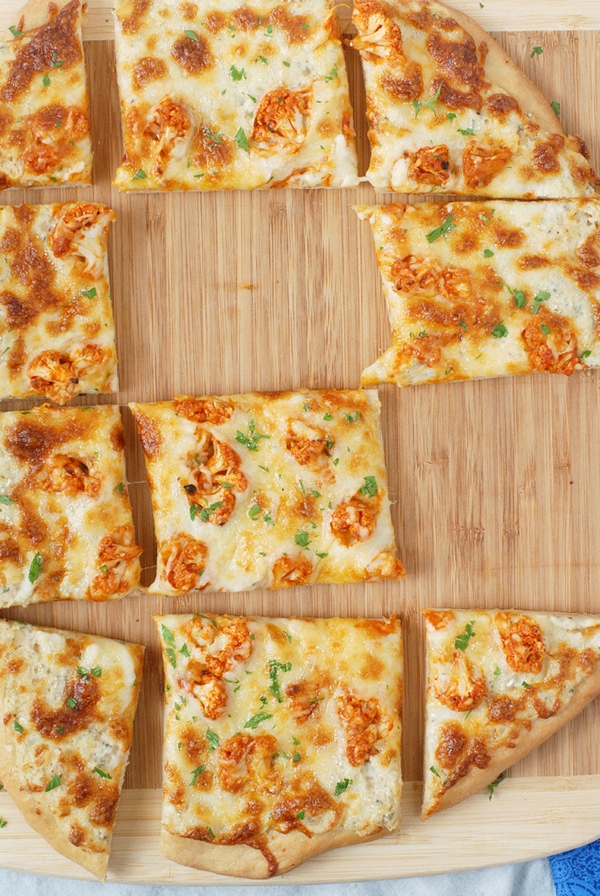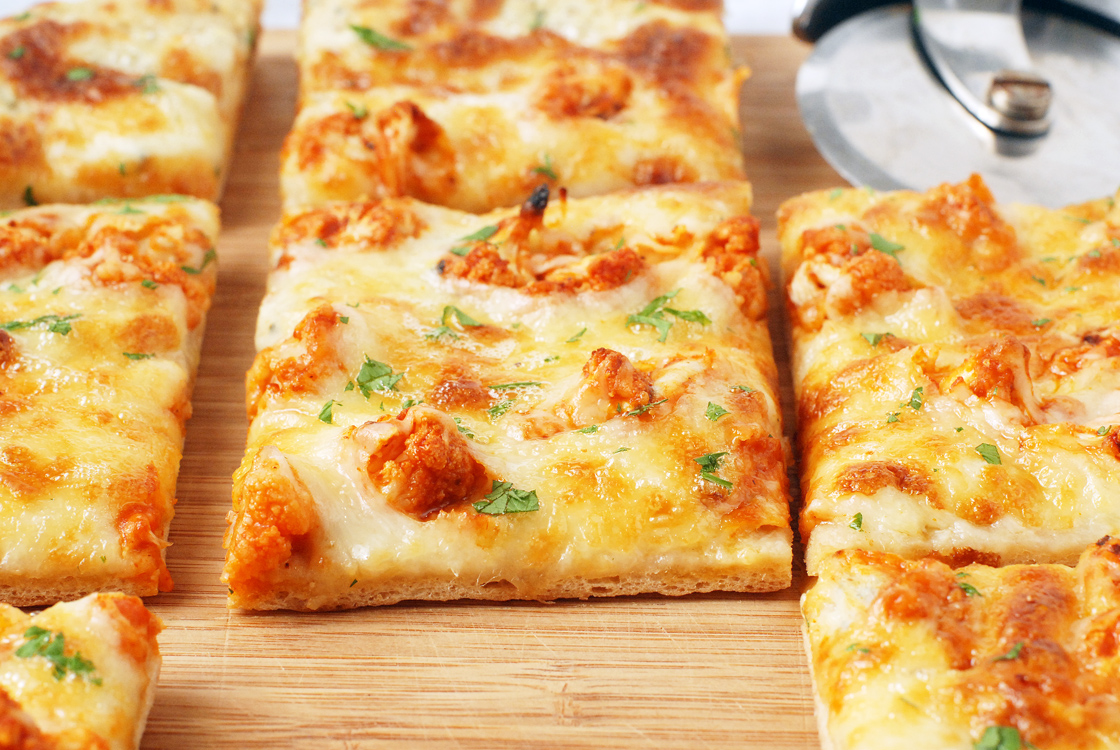 When developing my pizza I knew I wanted to have blue cheese in every bite (I adore blue cheese), so I incorporated it into the sauce based on this white pizza recipe.  I knew I didn't want to have buffalo sauce in every bite so that there would be some relief from the heat.  This pizza has pockets of spicy buffalo flavor backed by a tangy blue cheese flavor.  It. Is. DELICIOUS!  Seriously.
Tips and tricks for the Buffalo Cauliflower Blue Cheese Pizza recipe:
Cauliflower: I roasted the cauliflower with buffalo sauce to help deepen its flavor, and toss it with fresh sauce before topping the pizza to keep it bright.  Other recipes use things like chickpeas or chicken, but I thought the cauliflower was a delight!
Blue Cheese: I recommend getting a high quality blue cheese for your sauce.  The flavor is so much stronger!  If you don't like blue cheese, Parmesan works well is the sauce also.
Crust: Try my quick homemade whole wheat pizza dough recipe.  It only takes 30 minutes, and will rise while the cauliflower is roasting!
Buffalo Cauliflower Blue Cheese Pizza
This buffalo cauliflower blue cheese pizza has a homemade blue cheese pizza sauce so you get tangy blue cheese in every bite, with pockets of spicy buffalo!
Author:
Alison's Allspice
Ingredients
2½ cups cauliflower florets
⅓ cup hot sauce, divided (I used franks)
1 quick homemade whole wheat pizza dough recipe
1 cup mozzarella cheese, shredded
Blue Cheese Sauce
1 TBS olive oil
1 TBS all purpose flour
2 garlic cloves, minced
½ cup milk of choice (I used soymilk)
2 oz quality blue cheese (about ½ cup crumbled)
Instructions
Preheat oven to 425 F.
Toss cauliflower with half of the hot sauce. Spread out on a parchment lined baking sheet and roast 20 minutes, flipping half way through.
Place pizza stone in the oven to heat up while you make the pizza dough.
Blue Cheese Sauce
In a skillet, whisk together olive oil and garlic over medium heat. Cook 1 minute. Whisk in flour and stir until smooth.
Poor in milk and whisk until smooth. Remove from heat and stir in blue cheese.
Pizza
Press the dough into a 12 inch circle (or oval). Spread the blue cheese sauce over the crust. Sprinkle with ½ cup mozzarella.
Toss cooked cauliflower with the remaining buffalo sauce. Spoon evenly over the pizza. Sprinkle with remaining ½ cup cheese.
Bake on the pizza stone in the preheated oven for 12 minutes or until the cheese just starts to brown.
Recipe inspired by
Don't waist the crumbs
.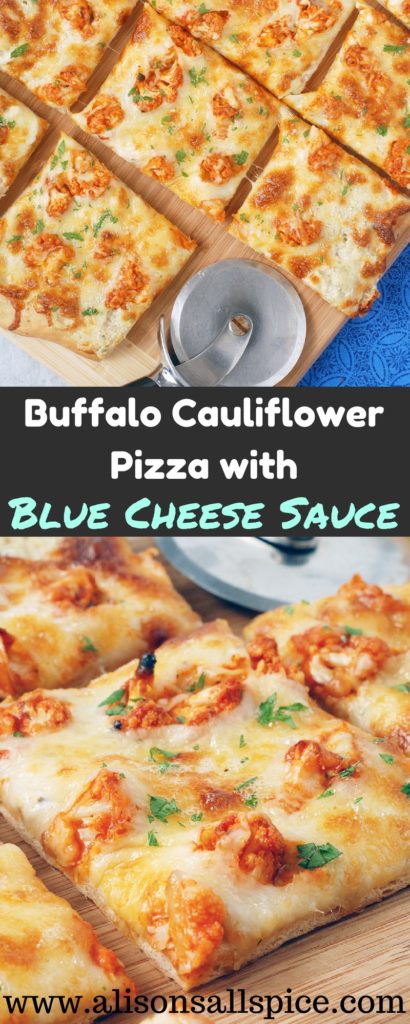 Products I used and recommend to make this recipe:
These are affiliate links.  If you choose to purchase through these links, I will earn a small commission at no cost to you.
Thank you for sporting Alison's Allspice!