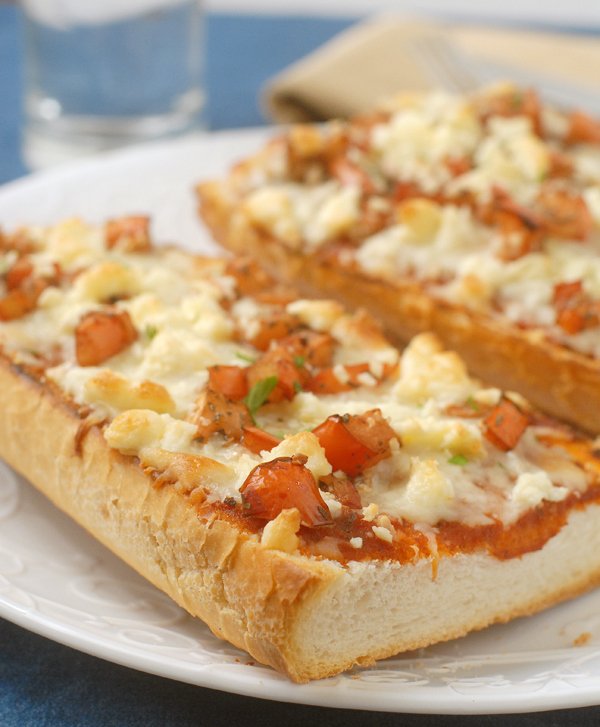 I developed this  balsamic tomato and feta french bread pizza recipe for winter, store-bought tomatoes that are less flavorful.
Winter tomatoes that didn't get to ripen on the vine just don't have the same flavor, or texture as fresh summer tomatoes.  A little soak in some balsamic adds sweetness and acidity to brighten those tomatoes right up!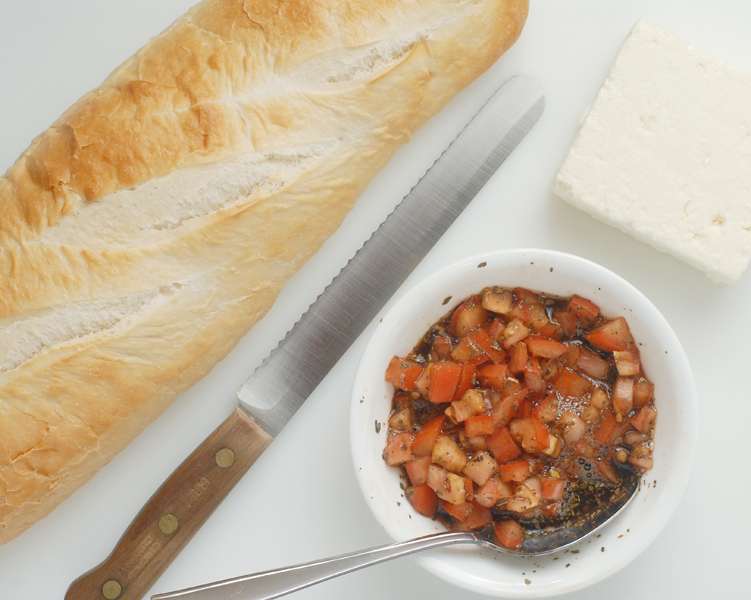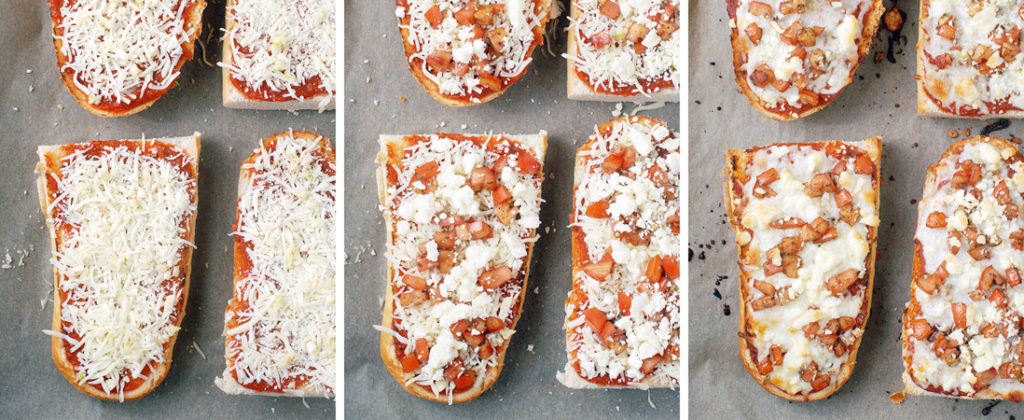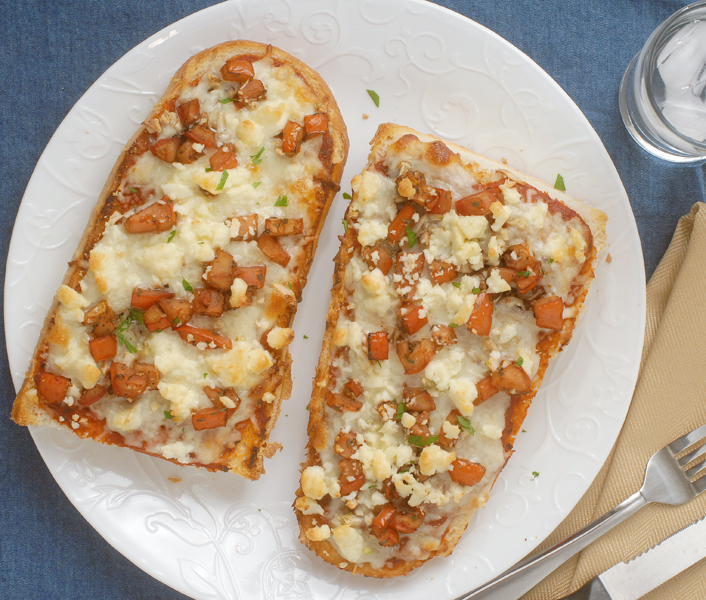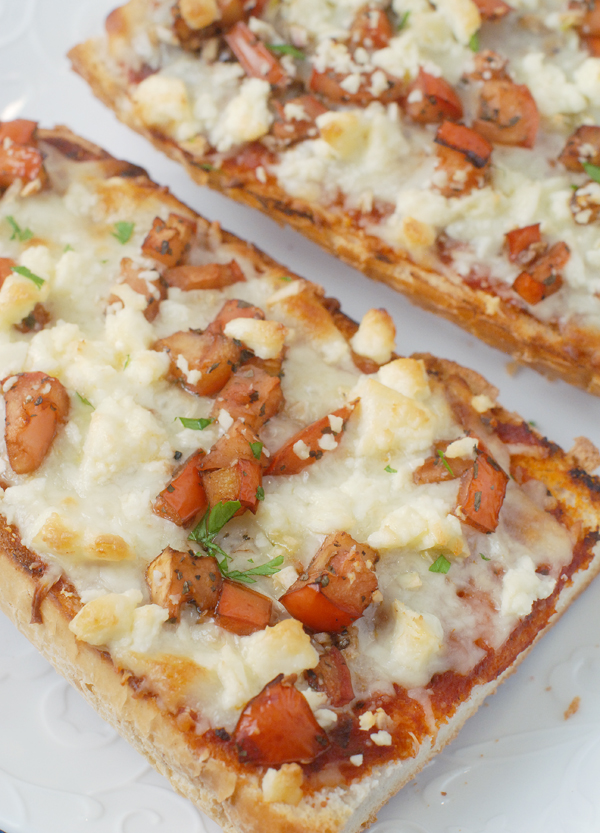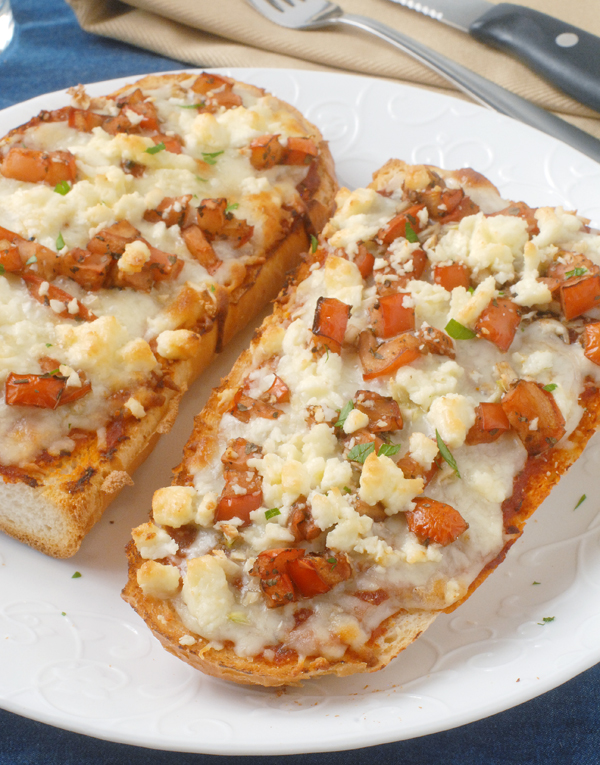 My husband and I always visit the same Italian restaurant for Valentines day.  I learned this technique of marinating the tomatoes from them, and we can't get enough.
I made these pizzas on french bread instead of dough to make them super fast and simple.  The crunchy texture of the baked french bread is also a fun way to switch things up on pizza night!
Variations to the Balsamic Tomato and Feta French Bread Pizza recipe:
 Try your favorite pizza dough recipe instead of the french bread if you prefer.
I tried this recipe with blue cheese as well, and found the feta to be a better flavor.  You might also try shaved Parmesan!
Sometimes I reduce the leftover balsamic from the marinade and use it as a drizzle on the french breads.  Totally worth the extra step if you have the time!
Pan toasting the bread helps keep it crisp and not soggy.  You can omit this step if you don't mind a softer interior.
Balsamic Tomato and Feta French Bread Pizza
Winter tomatoes are less flavorful because they didn't get to ripen on the vine. A little soak in some balsamic adds sweetness and acidity to brighten those tomatoes right up! Bonus - these french bread pizzas take only 30 minutes!
Author:
Alison's Allspice
Serves:
4 slices or 2 large servings
Ingredients
1 large roma tomato
1 TBS balsamic vinegar
½ tsp dried basil
pinch each: salt and pepper
16 oz french bread (preferably whole wheat)
½ cup marinara
1 cup shredded mozzarella
3 garlic cloves, minced
2 oz crumbled feta (about ½ cup)
Instructions
Combine the tomato, balsamic, basil, salt and pepper in a small bowl. Stir to combine and let marinade for 15 minutes.
Preheat oven to 425 F.
Meanwhile. Cut your french bread in half the short way, and then a gain the long way (on both pieces) to end up with 4 slices of french bread.
Heat a griddle or skillet over high heat. Place french breads cut side down on the hot griddle until golden brown. Repeat until all 4 french breads are toasted.
Spread 2 TBS marinara over each toasted slice of french bread. Top each with ¼ cup mozzarella, and sprinkle of fresh garlic, and 2 TBS feta cheese.
Using a slotted spoon to drain off the balsamic, spoon the tomatoes on the top of each pizza slice.
Bake in the preheated oven for 15 minutes, or until the cheese starts to brown.
Optional
In a small skillet reduce the leftover balsamic marinade until thick and syrupy. Drizzle over pizza slices.
This post was shared at
Fiesta Friday
and the
Weekend Potluck
!